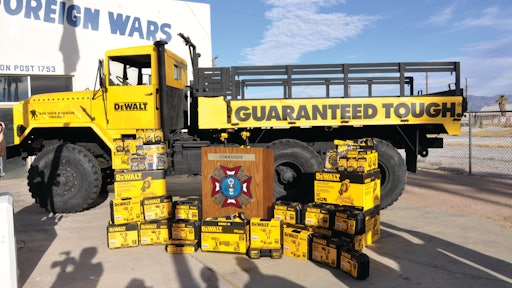 Continuing its commitment to build America, DEWALT, a leading manufacturer of high-quality industrial power tools, is expanding its product offerings built in the U.S. using global materials to include more than 600 different cordless power tools, hand tools and accessories.
Given a choice between a product made in the United States and an identical one made abroad, 78 percent of Americans would rather buy the American product, according to a 2013 survey by the Consumer Reports National Research Center.
DEWALT began production of its American-built cordless power tools in its 75,000-square-foot Charlotte Manufacturing Operations facility in early October, using global materials. DEWALT's investment in the revamped facility will help boost the local economy and create more than 250 new jobs.
The facility will allow DEWALT to deliver products with greater efficiency, while keeping the same guaranteed tough quality customers have come to know and expect from the brand.
For more information on DEWALT's initiative to build products in the USA using global materials, and to view a full list of product offerings, visit www.toolsofthebrave.com.