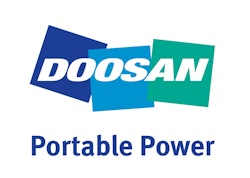 The Doosan Portable Power Certified Remanufacturing Program recently restored the 100th air compressor to move through the program to like-new condition. Under the program, Doosan Remarketing Services remanufactures older, larger model air compressors and provides a new warranty.
Video: Doosan Portable Power Remanufacturing
"The fact that we've remanufactured 100 compressors under this relatively new program means we are addressing a need for our dealers and customers," said Marc James, aftermarket marketing manager. "This is an alternative for price-conscious customers or those who want to give their compressor a second life."
The program works two ways. Customers can either sell their used air compressor to Doosan Portable Power to remanufacture and re-sell or customers can retain ownership of their original machine once it has been remanufactured. Doosan air compressors or units originally manufactured by Ingersoll Rand with capacity greater than 750 cfm are eligible for the remanufacturing program.
Upon arrival at Doosan Portable Power headquarters in Statesville, N.C., compressors are first subjected to a thorough 117-point inspection. Parts that meet Doosan Portable Power quality standards are reused whenever possible to minimize waste. Following the inspection, air compressors are disassembled down to the frame before the rebuilding process can begin. 
Each air compressor receives a remanufactured engine of the same tier classification as originally equipped, as well as a remanufactured airend. Usable parts from the original air compressor are thoroughly cleaned and inspected again before reassembly. New fluids are added and filters replaced, while the exterior sheet metal and frame receives a total makeover, including paint stripping and recoating — all with strict adherence to the stringent Doosan Portable Power painting process.
"We do the remanufacturing in our factory with our technicians and parts so we can ensure the highest quality possible," James says.
Once the remanufacturing process is complete, each machine is registered in the Doosan Portable Power system with a same-as-new machine warranty that includes one year or 2,000 hours on the package; the manufacturer's warranty on the engine; the airend standard warranty of two years or 4,000 hours; or the airend extended warranty of five years or 10,000 hours with the use of genuine Doosan filters and fluids. This warranty is fully transferable in the event a customer resells the compressor prior to the expiration of the warranty. Each machine is delivered with a complete set of manuals as well as a certificate indicating it has been through the Certified Remanufacturing Program.