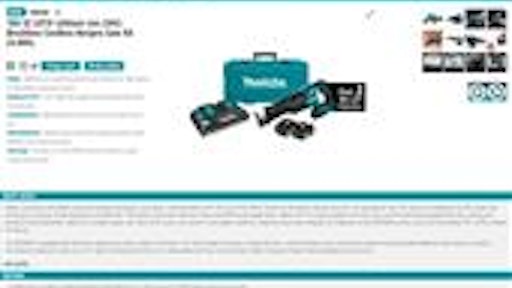 Makita U.S.A., Inc. has launched an immersive online brand experience for users and dealers with the new makitatools.com. The new website delivers more rich content and high-quality search, and is optimized for speed, performance, and security for use on all screens, from large monitors to mobile devices.
"Not Just a Paint Job"
The new website is much more than a rebuilt homepage. It's a smart system backed by a new Content Management System (CMS), a robust "back-end" that manages the full array of copy, product detail images, action images, documents, links, videos, and related content. The "back-end" (CMS) and "front end" (new website) work together to drive a more dynamic online presentation of Makita's over 450 industrial power tools, pneumatics and outdoor power equipment and over 3,000 accessories, as well as promotions, events, warranty and tool registration, and much more.
A New Online Tool to Find a Better Solution
"Makita is an engineering company focused on new innovation that helps contractors solve problems and work more efficiently," says Brent Withey, director of brand marketing, Makita USA. "The new makitatools.com is built to search and navigate through the full range of Makita solutions and technologies, while delivering a rich experience. This is only phase 1, with more phases to come."
Search from Broad to Narrow
In core categories Makita offers an array of models and technologies, and the new makitatools.com gives users the online tools to find a specific solution to meet their needs. For example, in the metalworking category users can browse Makita's nearly 40 grinders, then narrow their search by key features including wheel diameter, switch type, technology type and more.
To further narrow a search, users can isolate models for side-by-side comparisons. Each product detail page offers related models and recommended accessories, as well as high-resolution images and more product data. Select products include video and 360-degree images.
Companies in this article