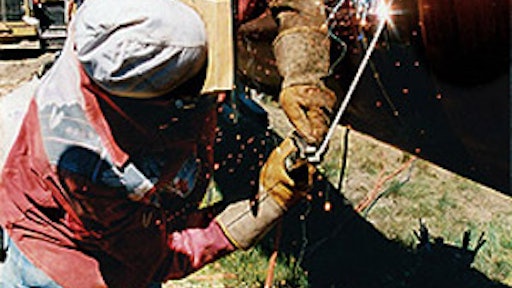 Justifying the investment in new welding equipment for the job site when existing equipment still functions is a challenge to many companies. However, unbeatable reliability, durability and service help ensures maximum uptime in using new Engine Drives.
Cost justification through fuel savings. The PRO 300 CC/CV uses, conservatively, 40 percent less fuel than a DC generator (.99 GPH when welding at 300 amps and .25 GPH at idle). With diesel prices at more than $2.50 per gallon, each PRO 300 can save hundreds or thousands of dollars per year in fuel costs.
I can run the PRO 300 for about four days before I fill up and afterwards I still have a quarter tank. If I was running a [DC generator], I'd need to put in about 10 gallons a day. The fuel economy on the PRO 300 is great. We buy our own diesel, so using less fuel makes a big difference."
- Gary Evans, pipeline welder

Cheyenne Plains Pipeline Project Requires Modern Welding Technology
Cheyenne Plains Gas Pipeline Co. recently constructed a new $425 million natural gas pipeline from just south of Cheyenne, Wyoming to Greensburg, Kansas. Providing an outlet for the growing supply of Rocky Mountain natural gas to markets in the Midwest region of the United States, Cheyenne Plains will be able to transport up to 730,000 dekatherms (1.7 billion cubic feet) of natural gas per day. This is enough energy to power about 10 million homes.

The 380 miles of 36-inch pipe and 5 miles of 30-inch lateral pipe was constructed of X80 steel, a material never before used for pipelines in the United States. Worldwide, the project nearly doubled the amount of X80 in use. This story discusses the new semi-automatic and manual welding techniques and equipment used to ensure quality on the approximately 400 tie-in welds made at river and road crossings on Spread 1. Read Full Case Study about the Cheyenne Plan: Cheyenne Plains Pipeline, Case Study No. 1
Cut acquisition, maintenance costs by using generator power to run a Miller inverter or plasma cutter or the Miller Du-Op. "Who in their right mind would want to service and maintain two engines instead of one? If I can have one engine drive and power two welding arcs with it, it doesn't take a rocket scientist to figure out that our maintenance costs are cut in half. It's a smart business decision."
- Mark Reimers, job superintendent, K.S. Mechanical
Lower maintenance costs. New Miller diesel engine drives can significantly lower maintenance parts and labor costs. Fuel filters are easier to replace, there are fewer brushes to replace and no armatures to rewind.
Better availability. "We'd often run into problems with older DC generators that would shut the machines down. The customer has a hard time understanding these problems. He's paying for a man and a machine. And when we have a broken machine on a platform, we're at the mercy of the crew boat's schedule or hiring a workboat to make a special run. The customers want something that's going to give them better service."
- Randy Aulds, general manager, Crown Oilfield Field Services
Reliable performance in hot weather. "Our other machines would cut out when we gouged too long with them. With the Miller, I gouged hard all day in 98 degree F heat and never had a shutdown [and] we were running 3/8 in. carbons." When welding, "The Big Blue starts out hot and stays steady on its heat all day. One of my main gripes with some other engine drives is that they fluctuate. Running to cold or too hot creates porosity."
- Tommy Langley, welder
Digging the Heat: Miller Engine Drives Provide Reliability at Mississippi Refinery


Fluor Corporation one of the world's largest engineering, procurement, construction and technical services companies, has roots in the Fox Valley region of Wisconsin. Coincidentally, so does Miller Electric Mfg. Co. These leaders in their respective industries shared something more in common when Fluor used the Miller Du-Op and a Big Blue 400-amp welding generator for its on-site maintenance and contracting operation at Chevron Corporation's Pascagoula, Miss. facility. Read Full Case Study - Fluor Daniel / Chevron Oil Refinery
Fewer rejects/less rework. "We've put in 32 joints this week and haven't made a repair. That's because it [the Miller Du-Op] doesn't break arc, so there's less chance for a bad weld to occur."
- Mike Moore, welder
Less stressful work environment. "Another thing operators really like is the machine's quietness. The Big Blue isn't noisy. You don't get that rumbling in your ears, so you can hear yourself think."
- Randy Aulds, general manager, Crown Oilfield Field Services