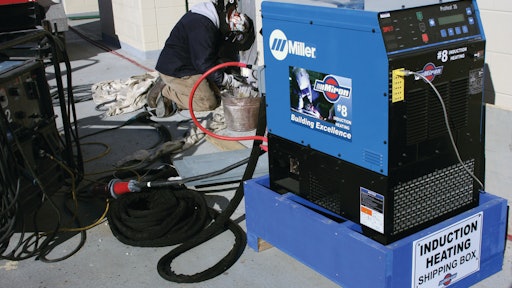 Miron Construction used Miller Electric's ProHeat 35 to preheat structural welds at the Lambeau Field Expansion for the Green Bay Packers. Miron used the ProHeat 35 throughout the project - instead of traditional heating methods such as a propane-fueled torch - as a faster and more efficient way of bringing steel columns to temperature and keeping them there.
Miron zip-tied the induction coils to an 8-ft. strip of plywood, and clamped the board to columns for preheating. The system cut preheating time at least in half, according to the contractor's welding supervisor.
Miller Electric Mfg. Co. and Hobart Brothers are the official welding equipment providers for the Lambeau Field project, and Miron is the official provider of construction services.
Video: Miron says Induction Halves Preheating Time Lambeau Field
Preheating helps prevent rapid cooling of the weld metal, relieves stresses and drives out hydrogen that can lead to cracking and embrittlement.
ProHeat 35 induces heat in the parent metal electromagnetically, rather than by surface heating. The induction cables themselves do not heat up but create eddy currents that generate heat throughout the plate and column. Benefits compared to torch heating include:
Faster, more consistent heating
Easier to apply/wrap heat
Eliminating preheat-gas expenses
Reducing total weld times, improving productivity
Improved safety (no open flames or hot heating elements)
More Lambeau-Field welding videos: