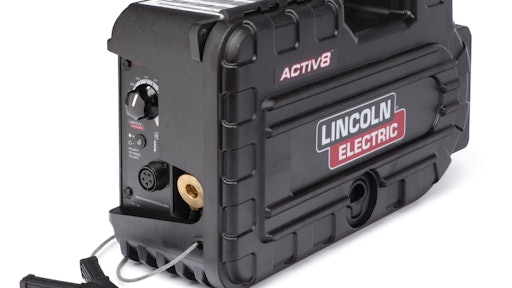 The portable Active8 wire feeder is available in a One-Pak configuration which includes a Magnum PRO Curve 300 gun. The wire feeder can feed self-shielded FCAW or FCAW-G and GMAW (MIG) gas-shielded wires at 50 to 800 IPM.
Wire feeder with internal contactor, gas solenoid, arc-sensing lead and clip (15 ft.) and a K1500-2 gun bushing
Gun comes with 15 ft. of gun cable, 1/16-in. liner and K466-10 gun connector kit.
Designed for 8-in. spools
Compatible with any DC CV and/or CC power source
Across-the-arc operation (voltage sensing) uses a sense lead and contactor to enable weld current
Handles GMAW wires .023 to .052 in. in diameter and FCAW wires of .035 to 5/64 in. in diameter
Rated at 330 amps at 60% duty cycle
Standard shielding gas apparatus can be used for FCAW-G and GMAW processes
MAXTRAC Drive System: dual gear-driven drive system ensures positive feeding performance; wire drive with tool-less drive roller and wire guide; tachometer-controlled motor powers drive rolls
Controls include: WFS knob and internal-booted Cold Feed and Gas Purges, Trigger Interlock and CV/CC switches
Plastic case molded from high-impact, flame-retardant material
Weighs 27 lbs.
Video: Lincoln Electric Activ8 Wire Feeder
Brochure: Lincoln Electric Activ8 Wire Feeders
Request More Information
Fill out the form below to request more information about
Activ8 Semiautomatic Wire Feeder