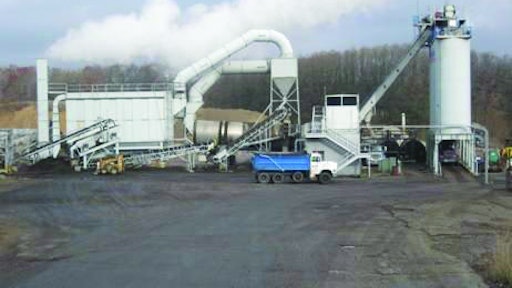 They've lived a full life getting pounded by sun and rain. Now, saved at the last minute from eternity in a landfill, thousands of tons of shingles will get a second life taking a pounding as asphalt pavement.
B.R. Amon & Sons Inc.  aggregate and paving company and its partner, Rooftop Recycling, this year will divert 15,000 tons of shingles from landfills and work them into hot mix asphalt (HMA). That extends the life of local landfills and eliminates 14,800 barrels of oil from use in paving, says Rooftop Recycling owner Mike Ettner.
The companies share an office on Highway 11 east of Elkhorn, WI. When they partnered in 2007, no Wisconsin company was mixing shingles into asphalt.
It took some experimenting to get the process down pat, Tom Amon, president and owner of B. R. Amon, says. "It's not like messing around in the kitchen until you get the soup just right," he says. "This is mixing on an enormous scale."
B.R. Amon's gravel pit east of Elkhorn is about 200 acres. It contains a five-acre pile of shingles dumped daily by roofing contractors and waste haulers.
Like other recycling companies, Rooftop must price its dumping rates below the price of landfill rates to encourage waste haulers to make the change, Ettner says.
Unfortunately, more than shingles comes in on the trucks.
"When roofing companies park that waste container in the front yard, homeowners see that as license to clean out the garage," Ettner says. "We see everything - swimming pools, furnaces, you name it."
The pile is manually sorted by one man and his wheel loader. Then raw shingles run through a series of shakers, magnets and human sorters before going into an industrial grinder. When the shingles are ground to the size of pebbles and grit, another magnet removes more nails.
Rooftop Recycling processes 50 tons of shingles per hour. It uses a Bandit Beast 3680 to do the job.
Once the material is ground, it's ready to be mixed into the asphalt plant along with aggregate and recycled asphalt. The shingles, which are made of aggregate, sand, oil and fiber are the perfect match, says Amon.
"Each and every one of those materials enhances the finished asphalt," Amon says.
B.R. Amon's finished HMA product typically contains 3% to 7% recycled shingles.
The fiber that holds shingles together - it's fiberglass in modern shingles - also works well to bind roads. Pavement made with asphalt that includes recycled shingles is less susceptible to cracking in cold weather and rutting from continued use, Ettner says.
"Paving crews do notice a difference [between mixes with shingles and mixes without shingles]," he says. "The HMA is stiffer to work with."
Processing the shingles also leaves Ettner with a pile of roofing nails, wood and scrap metal for recycling as well as waste material that can't be recycled.
Every ton of shingles produces up to eight pounds of nails, Ettner says.
(subhead) Getting here from there
Until 2007, Ettner's career was in landfilling. Among other operations, he is the former operator of Mallard Ridge, a landfill in neighboring Darien Township, Walworth Country, WI.
Amon has been in the asphalt business his whole life. In fact, his family has been mining gravel since 1922 and asphalt paving since 1950. In addition to the LaFayette Township site, B.R. Amon operates a hot mix asphalt operation in Cambridge, WI as well as a portable one.
The two men knew they had a good idea when they got together in 2007 to figure out how to mix shingles into asphalt.
A couple things came together to spark the project, Ettner says.
The U.S. Environmental Protection Agency at that time was encouraging states to include shingles in recycling programs. Meanwhile, oil prices were skyrocketing, which made it hard for Amon and other asphalt company owners to bid projects without giving public works directors and town board members conniption fits.
Ettner says it was a fairly easy decision to start investing in equipment and adding RAS to its line of asphalt products.
"Most of the equipment we use to process shingles was used for processing aggregate materials other than the grinder," he explains. "We knew the benefit would be savings to our customers by providing a more competitive price for the asphalt products we produce and market."
The two men lobbied the Wisconsin Department of Natural Resources, which in 2007 issued a pilot permit to recycle shingles into asphalt.
Today, about a half dozen Wisconsin asphalt companies have shingle-recycling permits, Ettner says.
"Wisconsin has promulgated a permissive spec, so it's there if contractors wish to use it," he says.
Ettner will continue to work to find alternative uses for shingles, he says.
Every year, 300,000 to 400,000 tons of shingles end in landfills in Wisconsin. Nationally, 11 million tons are landfilled, Ettner says.
"I know there are roofing contractors out there who are not recycling," he says. "Wisconsin does not have a shingle manufacture, so only tear-offs are available for asphalt producers. All of the asphalt products that are now produced by B. R. Amon & Sons Inc. contain a certain percentage RAS material. As the price of oil continues to increase, more asphalt producers will use a certain percentage of RAS material in their products.
Ann Marie Ames is a reporter for The Janesville Gazette.
---
?