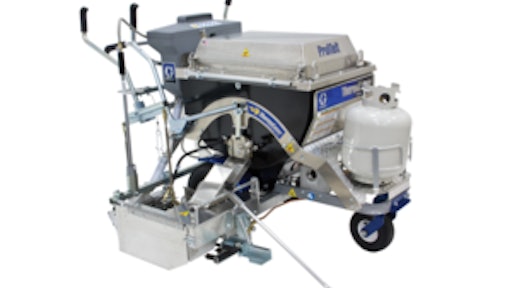 ThermoLazer ProMelt
Graco introduced the ThermoLazer ProMelt, a fast-melt, on-board thermoplastic striping system. The unit safely and easily melts 300 pounds (six 50-pound bags) of thermoplastic material on board in less than one hour with a one man operation. The attachable LineDriver connection system extends the use of the unit from a walk-behind to a user-friendly ride-on system.The unit features the SmartDie II system, a steel design that enalbes use with or without heat for more flexibility in all weather conditions. The no-tool die change-out system makes it fast to switch line widths.
Graco Inc.
PCR-30 Router
Cimline's new PCR-30 Router contains 20% more power to the drum helping the router cut more effortlessly. Safety features include a belly bar for hands free emergency shutdown and the Quick-Stop II feature that stops all rearward travel when the operator's control handles are released.The lower profile provides better balance and reduces operator fatigue. The unit provides smooth, high-performance routing with its horsepower engine and height adjustable handles including a Cut Control option to set the router cut dept which the machine will maintain after repositioning over another crack.
Cimline, Inc.
TechCrete
Crafco TechCrete is the solution for distressed concrete pavement preservation. Spalled concrete caused by fatigue, freeze/thaw cycles, warping stress, ingress of water, or substrate problems can lead to costly reconstruction if not properly repaired. TechCrete is a proven hot pour repair solution different from conventional rigid repair methods. Once in place TechCrete will conform to the pavement movement and will not de-bond or crack. Repairs with TechCrete can be opened up to traffic within as little as one hour.
Crafco Inc.
Road Pro 6170C Annihilator
Road Pro 6170C Annihilator is the newest addition to the Dickson line of pavement marking removal equipment. Mounted on a Volvo UD 2600 the unit features 18-in. diameter removal heads. Used for pavement marking removal, pavement grooving for recessed marking and slot cutting for recessed pavement markers. Large, high capacity dust collector for efficient debris recovery and storage features large opening quick dump door. Camera guidance system and programmable CompuCut system for skip grinding and grooving requirements.
Dickson Industries Inc