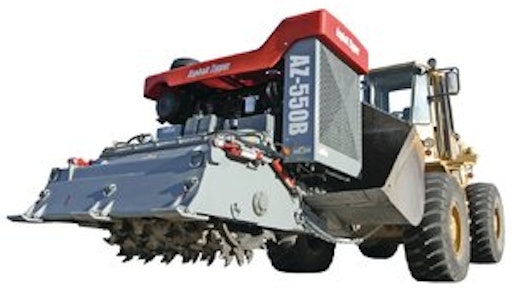 AZ-550 Reclamation Attachment
The AZ-550 full-depth reclamation attachment features a 203-hp Cummins Tier III turbo diesel engine generating 695 ft.-lbs. of torque.
Oil-cooled planetary gearbox for improved production on heavier projects
Up to 12-in.-thick cutting depths
Asphalt Zipper
BIG FLOAT
The BIG FLOAT is a floating (amphibious) excavator capable of operation in marshlands and shallow water areas.
Working width can be more than 18 ft.
Pontoon structure enables platform to be shrunk hydraulically to under 10 ft. for transport
Can be driven to the water
Can use all the same attachments as traditional excavators
REMU USA Inc.
Construction Grade Pressure Washers
Water Cannons new line of industrial, continuous duty pressure washers offer a choice of high quality Poly-Chain or 4-V Belt Drive units. These units, which have 20- to 27-hp engines, are rated from 4 to 8 gpm up to a 7,000 psi. Standard skid-mounted units feature a powder coated steel frame, removable complete roll cage with hose reel platform, on-board 15-gal. poly fuel tank, adjustable pressure unloader, and thermal pump protection.


This line of 20- to 27-hp industrial, continuous-duty pressure washers offer extended run times with large onboard fuel tanks.
Poly-chain or four V-belt drive units rated from 4 to 8 gpm up to a maximum of 7,000 psi
Standard skid-mounted units feature a powder-coated steel frame, removable complete roll cage with hose reel platform, onboard 15-gal. poly fuel tank, adjustable pressure unloader and thermal pump protection
Optional pneumatic wheel kit, EZ-Start Unloader, high-capacity 350-ft. hose reel rated up to 5,000 psi, industrial wet sand blast attachment and pulse valve for heavy commercial jetter applications
Water Cannon
DuraDeck
Heavy-duty ground protection and access mats for creating a protective roadway, walkway or working platform
Protects lawns and landscaped areas from vehicle and equipment damage
provides traction for vehicles and a safe pedestrian walkway or working platform in construction areas
Made of 1/2-in.-thick recycled polyethylene plastic
Double-traction tred design
Each 4-ft. x 8-ft. mat can support vehicles up to 60 tons
Connect mats for a continuous surface

Signature Fencing & Flooring Systems DuraDeck heavy-duty ground protection and access mats create a protective roadway, walkway or working platform over several types of terrains and surfaces.
Made of 1/2-in.-thick recycled polyethylene plastic with a double-traction tread design
4-ft. x 8-ft. mat can support vehicles up to 60 tons
Connect together to provide a continuous surfaceConnect together to provide a continuous surface
Signature Fencing & Flooring Systems, LLC - DuraDeck
Factory Integrated Attachment Control
HKX, Inc. offers an aftermarket hydraulic kit that integrates with an excavators factory controls(i.e., joystick and/or monitor).
Does not require peripheral controls to operate attachment(s)
No reduction in functionality and intuitive control
No need for large switches or aftermarket joystick controls

HKX Inc.
LiveLink
The LiveLink satellite monitoring system is available on the full range of JCB machines, providing the ability for improved performance and accurate monitoring.

Plugs into equipments own diagnostic system to provide ready access to equipment operating information from any location via a secure web site
Monitor machine health data such as hours worked, fuel consumption, temperatures and pressures
Track machine location and set geofencing limits and curfews

Receive service alerts
JCB Americas
Model 4500 Rock Picker for Seedbed Prep
The Model 4500 Rock Picker now features a single-source screen oscillation device that improves the screening performance by introducing an intense but almost undetectable movement to the sifting screen.
Reduces many moving parts and machine maintenance
Lifts a layer of topsoil 1 to 4 in. deep onto the sifting screen, retaining all rock, roots, stones larger than the chosen
Quickly changeable screens available from 1/2 to 1 1/4 in.
Cherrington Enterprises
Pipe Grap PG 45
The Pipe Grap PG 45 is two clamps in one.
Includes two changeable clamps
Adjustable grappling force
Manually adjustable height supports
Polyurethane wear parts in the clamps and height supports
Can be used with oil and gas pipes
360

° hydraulic rotator with regulator
ALLU Group
PocketClock/GPS
PocketClock/GPS software turns your Windows Mobile PDA into a portable timeclock that uses GPS technology to record the exact location of workers as they clock in and out.
Foremen and crew leaders can clock in entire crews at one time
Individuals can select the type of work being done when clocking in, allowing managers to track work by cost code
Detailed field notes about the job can be later sent to the office
Data easily transferred to a PC for review and export into the accounting or payroll system
Exaktime
Poly bolt-on track pads
Poly Bolt-On Track Pads enable reuse of predrilled steel triple grousers by replacing only the removable polyurethane track pad.
Save 35% to 40% in replacement costs and up to 50% in labor costs
Bolt directly to the pre-drilled triple grouser
Install and remove easily
Fit all Roadtec and most other milling machines and asphalt pavers
BLS Enterprises, Inc.
Predatair 60 Air Compressor
The Predatair 60 cfm hydraulic above-deck air compressor features Air-On-Demand technology that matches air output with the demand placed on the system so as more air is required, the inlet control valve opens wider to produce more air.
13-20 gpm hydraulic flow
Takes up less space than many 30 cfm compressors
Direct-drive rotary screw compressor has no belts to adjust or replace
100% duty cycle
Hydraulic and compressor oil temperature sensing
Soft start feature
VMAC
Red Dot Rooftop HVAC
Red Dot offers a rugged, high-output, low-profile heating and air conditioning unit for heavy construction equipment, farm vehicles, and commercial trucks.
Slim, contoured plenum is easy to operate and preserves interior room
25,000 BTUs cooling and 355 cfm air flow
Optional remote-mount Gideon air filtration system for a pressurized, cool, dust-free cab

Red Dot Corp.
Remanufactured Hydraulic Pumps
Remanufactured hydraulic pumps are available for the CX and 90B series excavators, providing quality, reliability and performance equal to new pumps but at a lower cost.
100% remanufactured
Include all-new servo pistons and bores with improved seal design
Calibrated regulators, power takeoff, pilot pump and electrical proportional solenoid
1-year or 1,500-hour warranty coverage, including six months free labor when installed at a Case Dealer Service Center
CASE CONSTRUCTION EQUIPMENT
Rumbler III
The improved Rumbler III rumble strip cutting attachment can be mounted on the left or right-hand side of a W 60 cold mill.
Cutter permits fast installation of rumble strips on existing paved shoulders at up to 180 fpm
16-in. standard cutter width with depth adjustable to 1 in.
Drum housing measures the width of the tractor
Six-sided rumble wheel with urethane pads and a hydraulic rumble wheel drive
Wirtgen America Inc.
Scotchlite Reflective Material
This broad line of reflective products incorporates patented retroreflective technology.
Recognized as the leading high performance retroreflective material for enhancing worker visibility in low-light and nighttime conditions
Can be easily incorporated it into various kinds of footwear, garments and accessories, including safety vests
Helps meet ANSI/ISEA 107-2004 Performance Class 2 or 3 requirements

3M Visibility and Insulation Solutions
Scout ST-50 Utility Vehicle
The 50-hp ST-50 rubber tracked utility vehicle features a suspended undercarriage with four torsion axles and 24 rubber idler wheels that spread the machines weight over the entire length of its track.
4,562-lb. operating weight distributed down to 2.38 psi of ground pressure
5,000-lb. towing capacity with industrial front and rear hitch
50-gross-hp Perkins naturally aspirated diesel engine
Hydrostatic two-speed drive with 11-mph maximum travel speed
Rear deck standard with optional hydraulic dump box or four-person personnel carrier
ASV, Inc.
SonoBlaster
The SonoBlaster dual alert work zone intrusion alarm warns road crews and drivers simultaneously to help prevent crashes and injuries in work zones.
Mounts to barricades, cones, drums, delineators, A-frames and other barriers
Horn instantly blasts a 125-dB alarm for 15 seconds upon impact to signal that the work zone has been violated
Transpo Industries, Inc.
Tree Shears
Fecon offers three tree shears suitable for excavators from 12 to 20 tons.
Weigh from 2,000 to 3,500 lbs.
Can shear trees from 14 to 16 in. in diameter
Single or dual knife cutting systems
Suitable for clearing trees up and down slopes and in other hard to access areas
Grabber arms work in conjunction with the knife system and acting accumulating arm for bunching trees
Fecon Inc.
Welder Generator Running Gear
All-purpose running gear is available for the Bobcat and Trailblazer welding generators, allowing for easy maneuverability over various terrain.
Features an extended wheelbase, extra-heavy-duty front casters and 1-in.-diameter axles for increased ruggedness and maneuverability
Optional Never-Flat Tires maintain a constant tire pressure and are immune from punctures
Available for the Legend 302, Bobcat and Trailblazer models with or without a protective cage
MILLER ELECTRIC MFG CO