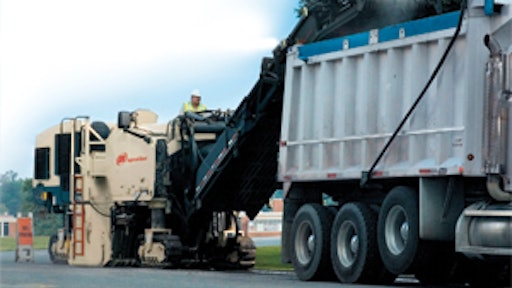 Ingersoll Rand has entered the milling market with the introduction of two milling machines, the MW-500 and MT-2000. The company plans a full product range of six milling machines with cutting widths from 20 inches to 14 feet.
MW-500
The MW-500 is a four-wheel, rear-loading, utility-class milling machine that offers a standard cutting width of 20 inches. Because of its compact size and maneuverability, applications include patching, trench and shoulder milling.
A 125-hp Deutz diesel engine powers the MW-500. An independently driven cooling fan is designed to ensure trouble-free operation even at high ambient temperatures. The fan automatically switches on and off as required, for reduced noise and fuel consumption.
The four-wheel MW-500 has an extremely tight cutting radius of 7 inches. The right rear support leg and wheel can be swivelled inboard for flush cutting. The MW-500 offers all-wheel-drive for optimal traction and features Anti-Slip Control (ASC) as standard. The patented Line Manager system works in conjunction with the ASC to allow the operator to maintain a constant speed of operation and direction of travel without being adversely affected by the rotation of the milling drum.
The 30-inch-diameter drum offers a maximum cutting depth of 8.25 inches with a standard cutting width of approximately 20 inches. The MW-500 includes hydraulically raised drum side skirts and rear moldboard to improve material containment and drum access.
The fully enclosed conveyor can be adjusted up and down and is capable of moving side to side up to 25 degrees in either direction. The conveyor can be easily removed via a quick coupling device for mill-in-place operations.
The MW-500's operator's platform features an adjustable steering wheel and control panel for optimal ergonomics. This platform provides the operator a 360-degree view of the working area and excellent visibility to the drum.
The MW-500 is designed with serviceability in mind. All daily check points and routine maintenance locations are available via access doors. A swing-out valve block allows access inside the engine compartment. A back-up raise and transport panel is available for emergency operation.
MT-2000
The MT-2000 is a four-track, front-load, half-lane milling machine powered by a 600-hp Tier 3 Cummins engine.
The MT-2000 offers three distinct drum cutting speeds. The deep-cut power bulge feature provides higher torque at lower engine revolutions per minute to power through tough material or deep-cut applications. The high-speed selection is for maximum speed on shallow cutting depths. The standard cutting speed is used to provide maximum horsepower and efficiency at normal cutting depths.
The MT-2000 can run both 78.75-and 86-inch drums. The drum and housing are easily removed together to reduce time and complexity during interchange. The drums are available with weld-on or quick-change tooth holders and fine or standard tooth spacing patterns. Specialty drums are available upon request.
The four-track system offers innovative features to improve performance. With five steering modes, the MT-2000 is the most maneuverable machine in its class. In addition to front, rear, coordinated and crab steering modes, circle steer is now available for the tightest turning radius possible. An independent slope sensor alerts the operator if the machine is out of an acceptable range and adjusts the support legs to level the machine.
The 36-inch-wide gathering and discharge conveyors are independently controlled with variable speed adjustment to meet the capacity of the cutting drum. The theoretical capacity of the conveyor system is 1,330 cubic yards per hour. A pressure monitor in the discharge conveyor is designed to slow the machine to prevent overloading of the conveyor system. Both conveyors are hydraulically tensioned and incorporate maintenance-free bearings for improved performance, and each uses a water spray bar for dust suppression.
The dual operating stations on the MT-2000 have four-way sliding seats and console storage compartments. The control panels adjust to accommodate an operator who is seated or standing and move laterally for ergonomic operation. The right-side platform and stairs provide a secondary access point and fold away for flush cutting. The unit includes 14 lights for work at night.
The MT-2000 incorporates advanced technology with intuitive operator panels that are easy to understand and operate. The back-lit membrane switches are color-coded to match the area of function on the machine.
Each control panel includes a brightly illuminated display area that allows the operator to view the master control screen or one of eight different diagnostic screens. Diagnostic screens include in-depth information on the engine, hydraulics, truck loading and grade controls. Performance messages and diagnostic information are displayed in easy-to-understand language, rather than codes. Up to eight different languages are available for communication.
Four ground control panels are conveniently located at each corner of the machine. A ground crew member has the flexibility to control both sides of the machine, and the front or rear, from one grade control station. The MT-2000 has optional sonic grade control sensors that can be plugged into six ground locations. The grade control panels can also be plugged into any of the six locations, plus a location on the operator control area.
Topcon Total Station Series
The all-new total station series from Topcon include the GTS-900A and GPT-9000A series. The systems include the FC-200 field controller and RC-3 tracking system. The GPT-9000A robotic total station provides precise reflectorless measurement up to 6,500 feet and can easily focus on small objects like power lines. The onboard computer offers a bright, full-color touch-screen display and faster servo motor technology to improve field productivity. The GTS-900A series reflector-only instruments are available with the same system components. Additional features include X-TRAC technology with instantaneous re-acquisition of target lock; completely cable-free design-all components; and ultra-fast robotic servo technology.
Terex Cedarapids CR300L Series Pavers
The 9-inch-longer CR300L Series offers contractors an 11 percent increase in hopper capacity to 10 tons, delivering more paving time between truck exchanges. The additional 9-inch hopper length offers more tailgate clearance for end-dump trucks, enabling more efficient truck unloading. Material is discharged in the middle of the paver hopper for more effective use of total hopper capacity. Units feature the Smartrac system, which automatically maintains proper track tensioning at all times and are powered by a 165-hp Cummins 6BTAA5.9 turbocharged diesel engine. Paving widths range from 8 to 18 feet. Three different screed designs are offered.
Ray-Tech Aggregate/RAP Pre-Heating System
Ray-Tech has recently developed an infrared heating system specifically for heating and drying aggregate and RAP. The system is composed of multiple heating units, which are designed to be placed over a conveyor belt in close proximity to the product on the belt. The length of each unit is 8 feet and can accommodate the width of the belt being used. Each unit of the system is completely self contained and can operate independently. By placing multiple units over the conveyor belt, you can create as long a heating system as required. The system is supplied with a centrally located control panel, so each unit can be controlled from one location.
BMG Seltec Central Dispatching Software Solution
BMG Seltec introduces its Central Dispatching software solution version 2.0, which offers seamless management of the bulk materials order-to-delivery cycle for small and large producers alike. Version 2.0 features extensive graphical views and real-time refreshment of the data used at production sites. Features include quick entry of customer demand for specific calendar day(s) by customer service or dispatching personnel, impact analysis planning graphs that can show the current demand against existing delivery demand, and extensive dynamic graphs that show current load demand against capacity (truck and plant) and the status of loads throughout the delivery cycle. The software facilitates real-time feedback from the plant on truck status, load status and ticketing activity (shipments). It allows full integration to self-service kiosks so users can easily check in and activate trucks on loads for maximum efficiency.
Hamm HD 14 Roller
The HD 14 tandem roller with articulated steering features 41-hp engine power and a 54.33-inch drum width. Large area coverage is possible with this machine, but it's also suited for small construction sites due to its compact design. Unit features a 33.5-pound linear drum load and can be used for open-pore asphalt and inline paving, where two layers of asphalt are being installed in one pass.
Companies in this article