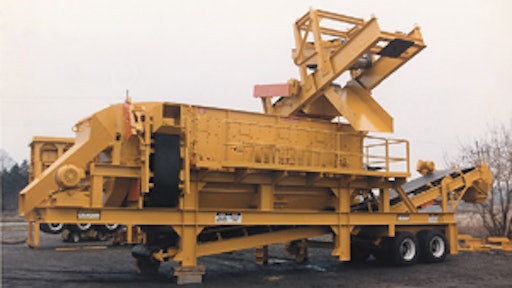 Grasan 620HD-H
The 620HD-H is a portable screen plant.
6- x 20-foot triple-deck horizontal screen with three-shaft, between-deck drive unit
Side discharge conveyor
Under-screen fines conveyors
Extra heavy-duty frame and walkways on three sides
Mounted on a tandem axle trailer
Terex Roadbuilding E100P Asphalt Plant
The E100P super-portable asphalt plant features a counterflow drum mixer design, which delivers production capacities reaching 100 tph.
Impulse X controls package enables running a range of mix designs, including tough state spec mixes for Interstate paving
Features counterflow technology for running higher percentages of RAP than parallel-flow plants, while staying within environmental regulations
Stansteel Asphalt Plant Products
Stansteel Asphalt Plant Products offers units from complete batch and drum mix plants to individual plant components.
Used and manufacture-reconditioned equipment available
Can use partial existing equipment, partial reconditioned eqiupment and selected new components
Grasan KR1010 Compact Rubble Plant
Grasan's KR1010 compact rubble plant sets up in 15 minutes and operates in tight quarters.
Hazemag primary impact crusher with 25-inch high by 40-inch wide feed opening
Crushes up to 150 tph
240-hp John Deere diesel engine
Variable-speed heavy-duty grizzly feeder
Transports over the road fully assembled
Grasan KRH1515
The KRH1515 road-portable crushing plant incorporates the Hazemag APPH impact crusher with fully automatic hydraulic cylinder system.
Up to 600-tph crusher capacity
45-inch-high crusher inlet with hydraulic movable inlet base
Diesel or electric power
Six independent hydraulic support legs for easy setup and teardown without a crane
Grasan Custom-Built Crushing Plants
Grasan offers a new line of large, track-mounted primary crushing plants that are each largely custom designed and built to meet customer needs and specifications for high-production aggregate applications.
Hazemag 1515 APPH primary horizontal impact crushers
Simplicity 62" x 18" vibrating grizzly feeders
Simplicity 5' x 6' single-deck scalping screens
54" x 40' discharge conveyors
Terex E225P Counterflow Plant
The new Terex E225P portable counterflow plant features 225-tph production capacities.
Built for fast, low-cost portability
Counterflow drum mixer is capable of making a wide variety of mix designs, including Stone Matrix Asphalt and Superpave
SJ-360 Hauck burner delivers 75 million BTUs of energy
Roto-Aire RA218 baghouse with 40,000-cfm capacity
Self-contained 50-ton self-erect, self-weighing silo
Terex Impulse X control system
VSS Emultech Emulsion Plants
The VSS Emultech emulsion plants are available in 9-, 16-, 24- and 40-tph sizes.
Wide range of custom designed solutions for batch, continuous or semi-continuous emulsion production
Fully equipped to produce anionic, cationic, nonionic, or clay-based emulsions
Terex E3 Series Drum Mixer
The E3 Series counterflow drum mixers offer production ranges from 300 to 500 tph.
Portable and relocatable
Three distinct heating transfer zones — convective, radiant and conductive
Magnum-style flights
Triple Drum early-entry RAP system
Three models are available
Reliable Asphalt Products
Reliable asphalt products offers a complete line of new, used and reconditioned equipment for the HMA producers looking to improve their operations.
Supplier can visit your site and evaluate your needs, then make recommendations to improve your plant
Can supply new batch and drum plants; stationary and portable arrangements are also available
Large database of used plants and components; all listings have been pre-qualified for quality
Used equipment can be purchased on an as-is basis or reconditioned for exact specifications
Other services include tear down and erection services, layout and design, freight handling coordination, complete parts installation, plant painting and field services
Dillman Duo-Drum Plants
Dillman Equipment's Duo-Drum Plants feature independent aggregate dryers and separate mixing drums.
Dryer has large combustion volume zone and more dryer length
Mixer captures all by-products of mixing, such as fumes and light ends, and sends them to the dryer burner to be incinerated
Stationary, skid mounted and portable configurations
Produces 650 tph with high recycle percentages
Superpave ready
Cardinal Guardian Hydraulic Truck Scale
Cardinal's Guardian hydraulic truck scale protects against various conditions, including:
Water
Lightning
Power surges
Corrosion
Shock loading
Extreme temperature fluctuations
ADM Milemaker
Asphalt Drum Mixer's Milemaker portable and stationary dual-drum counterflow asphalt plants produce from 160 to 425 tons per hour.
Separate drying and mixing drum allows for long drying times
Can handle additives and high percentages of RAP without blue smoke
ADM Roadbuilder Series
The Roadbuilder Series has a parallel-flow design ot maximize drying as it moves the moisture-laden aggregate in a rotating, veiled pattern away from the flame.
Produces 110 to 350 tons per hour
Drum diameters from 62 to 96 inches
Maxam Optima Batch Plant
Maxam's new Optima batch plant features all moving components on the outside of the tower for reduced wear and ease of maintenance.
Available in 4-, 5- and 6-ton batch sizes
100 to 250 tons of hot storage
Reliable Plant Maintenance
Reliable Plant Maintenance can supply complete plants, new and used.
Can supply both batch- and continuous-style plants, silos systems, baghouses, cold feeds, controls, dust handling systems, recycle systems, drag slats, bucket elevators, conveyors, AC tanks and more
Used Equipment Division has large selection
Libra Enterprise Information Server
The Enterprise Information Server from Libra Systems is designed for plant-to-office integration.
Changes made by office personnel are automatically sent to the plant computers
Transactions and plant status are automatically retrieved from the plants
Includes user-friendly analysis tools
Libra Generation3 Ticketing System
The Generation3 asphalt batching silo loadout and truck scale ticketing system from Libra Systems features a highly configurable design that offers the capability to add fields, layout ticket printing, add or modify reports and create database fields.
Modular design
Seamless integration with virtually any office application
Comprehensive reporting capabilities
Extensive security
Astec TC-2000
Astec offers the flexibility of Microsoft Windows 2000 and soft PLC engine.
Run and monitor all plant functions from a standard PC, including blending operations, plant motors, motor currents, mix and plant temperatures, material inventory, silo levels, energy usage and alarm status.
No traditional control panels needed
Flexible Profibus I/O
Runs on standard PC under Windows 2000
Libra Quantum Drum Mix Control System
The Quantum drum mix control system features fully graphic operator interface.
Animation shows plant status at-a-glance
Live trending graphs
On-screen control buttons help the operator to quickly view plant status and identify and solve process problems
Tracks equipment maintenance and re-calibration schedules
Displays production totals, ingredient totals and mix history for any date range
Clarence Richard Tank Gauge
The Tank Gauge from Clarence Richard Co. continuously reads asphalt oil tank levels.
Programmable high and low audible alarms
Easy installation in control room or on tank
Low maintenance
For horizontal or vertical tanks
Hauck Control Systems
Hauck offers control systems from simple single-burner systems to custom designed advanced microprocessor control systems, including touch screen operator interfaces.
PLC based or relay logic technologies
Provide all combustion operation functions including start-up sequencing, flame supervision and high temperature limits
Minds eRoutes.info
Minds' eRoutes.info is designed to give you critical information on the status of your paving projects and plant production.
Information includes truck trip times, tons loaded, fleet assessment
Alarms and reports on your cell phone and through any Internet access
Real time feedback to accounting, invoicing and job costing software
Compatible with any control system and loadout
Installs in less than one hour
Rice Lake ATK System
The ATK automated ticketing kiosk system automates everything from the point-of-sale to the invoice to account management.
NEMA 4 steel construction
Automates truck identification, load assignment and weighing as well as ticketing
Integrates seamlessly with any sized facility's central office and accounting system
Hauck EcoStarII Burner
Hauck's EcoStarII provides flame stability with superior performance and BACT for low emissions.
Fuel saving and reduced emissions through enhanced air/fuel ratio control
Simplified design for ease of installation, fuel handling and operation
Pre-piped, skid-mounted fuel manifolds with integral safety and manual shutoff valves, orifice/flow meters and control valves
Optional motor/impeller vibration monitor for preventive equipment maintenance

SYSTEMS Control Centers
SYSTEMS Equipment manufactures portable, skidable or stationary turnkey replacement control centers specficially designed with an emphasis on rugged construction, operator comfort and logical integration of plant controls.
Complete with structure, motor control center, automation and all controls

SYSTEMS Process Control & Truck Loading Automation
SYSTEMS Equipment offers full-featured,industrial grade process control and truck loading automation for new and retrofit drum mix applications.
Compatible with all drum mix proportioning requirements and equipment
Available with text or Windows-based user interface
Ace RAPwrangler
Ace Group's RAPwrangler RAP crusher is suitable for stationary, portable, drum or batch plants.
20-inch rotor has 312 replaceable tungsten-tipped milling teeth that shred chunks of asphalt down to 1 inch at 250 tph
Rotor spins at 127 rpm undermining the material in the 30" x 40" hopper directly above
30- or 50-hp motor
SYSTEMS Model AM-1600
SYSTEMS Equipment Model AM-1600 multiple ammeter display allows a quick overview of selected plant motor loads.
Provides an accurate indication of actual loads and visual and audible alarms of overload and underload conditions
Displays incoming or generated power voltage and frequency from up to two sources
Reliable Used/Reconditioned Equipment
Reliable Asphalt Products offers equipment that can be purchased on an "as-is" basis or reconditioned for specifications.
List thousands of plants and components of all types to meet various requirements
Batch plant, drum plants, parts and components
All listings prequalified for quality
Ace Shaker Decks
Ace Group's shaker decks are designed to filter out oversized aggregate from your mix.
Custom made with single or double deck
Single decks available from 3' x 5' up to 5' x 10'
Made to use common size screen cloths
Duraco Dura Tanks
Dura Tanks are for storing asphalt emulsions.
3,000- to 10,000-gallon sizes
Vertical storage tanks feature timed agitator system and thermostat controlled heaters and occupy less ground area
Burke Vertical Tanks
Burke Heating System's vertical tanks offer a smaller footprint than horizontal tanks
Manufactured with a square top much like silos, allowing 30 percent more working area on top of the tank
Skids are on tanks to allow the bottoms to be insulated
Pre-piped suction and drain to easily empty the tanks when changing liquids

Burke Helical
The Burke Helical skid-mounted unit is available in 1.2- to 6-million BTU/hour capacities.
Stout construction with heavy-duty frame and shell
Efficient coil design
Low stack temperature of exhaust air
Easy access to all critical components for maintenance
Industrial burner with multiple fuel options
Fully insulated
For both portable and stationary plants
Maxam Raptor System
Maxam's Raptor recycle system allows batch or counterflow drum plant to recycle without blue smoke or steam explosion.
Operates up to 50 percent recycle content
Maxam Trunnions
Maxam's self-aligning trunnions require no manual adjustment.
Retrofitable to existing drums and dryers
Heavy-duty sealed bearings require no maintenance
Roller continuously tracks the face of the tire
Astec Phoenix Talon Burner
Astec's Phoenix Talon high-efficiency burner for the aggregate and HMA industries features a premix gas design and air-atomized oil burning technology.
Equipped with variable frequency drives that replace dampers for quiet operation
Lean-burn premix capability doesn't require special equipment
Thorough gas/air mixing, plus rapid combustion keep emissions low
Compact flame shape is compatible with most drums without complicated flame adjustment
Astec Self-Erecting Bin
Astec's Self-Erecting Bin (SEB) meets NTEP Handbook 44 specifications.
Portable unit combines five major plant functions into a single load
Drag conveyor transports mix to the bin where it's batched, weighed and loaded onto trucks
Also includes plant's control center
Entire system self-erects in less than 15 minutes
Astec Accu-Swipe Belt Swiper
Astec's Accu-Swipe belt swiper simplifies quality control.
Automatically takes a cross section of aggregate in less than one second and without stopping production
Can be fitted to the inclined conveyor off the cold feed or multi-bin RAP feed system
Can be retrofitted to virtually any conveyor
Astec New Generation Silos
Astec's New Generation HMA storage silos are designed to store mix for four days without loss of mix quality.
Can be used as conventional surge bins during uninterrupted production or for long-term storage
6 inches of insulation; top of silo is lined with 12 inches of insulation
Cone design is insulated with electric heating blanket
Fully enclosed, insulated batcher with manual grease seal
Oil-heated discharge gate
Steeply sloped sidewalls in silos with 66-degree cone angle
Astec Whisper Jet Burner
Astec's Whisper Jet features a compact flame that is compatible with most drum designs.
Designed to burn various fuel grades cleanly and efficiently
Rapid combustion keeps NOx and CO emissions low
Swirling air and flame are created by the fixed internal spin vanes and the patented castellated nose cone, ring and nozzle design, which allows for fast and complete combustion
Astec Double Barrel Dryer/Mixer
The Double Barrel dryer/mixer is a combination aggregate dryer and HMA mixer that can keep RAP and virgin aggregate separate until the mixing phase of production.
Minimizes emissions
Ensures mix quality
With the RAP and virgin aggregate meeting in the outer mixing chamber, excess moisture is removed from the RAP and the reclaimed liquid asphalt partially coats the virgin aggregate
ACEBOND Chromium Carbide
ACE Group is the exclusive supplier of ACEBOND chromium carbide for conveyor floors, hopper liners, chutes, bins, drum liners, screed plates, floor plates, etc.
ACEBOND helps equipment to resist chipping, flaking, peeling, separating, abrasion and erosion under severe conditions
Process fuses together three basic elements to create an ultra-hard abrasive-resistant surface, which creates an ultra-high chromium carbide composite alloy
Eagle Crusher UltraMax 1600-69
The UltraMax Series 1600-69 portable high-volume, primary/secondary impact crushing and recycling plant features a sculptured three-bar rotor made of solid steel.
68" x 20' feeder
Can also consume various concrete and aggregate materials
69-inch feed opening
Resulting products are cubical and highly uniform for all spec crushing applications
Kemcorp Particle Separation System
The Kemcorp Particle Separation System (PSS) from Kemper Equipment separates and collects fine aggregates.
Removes 200M from 1/4-inch sand to produce a clean and marketable manufactured sand
30- to 300-tph capacity
Minimal set-up time
PHCO Lo-Density Fuel Oil Preheaters
Process Heating Co.'s lo-density fuel oil preheaters are designed to cut expenses for asphalt plants operated with heavier or reclaimed fuel oils.
Reduces viscosity to ensure a smooth flow for improved combustion
Available in various sizes
Weatherproof, pre-wired U.L.- listed industrial control panel
Heat at a rate of 5 to 7 watts per square inches
Total accessibility to the heater terminal box
Meeker Baghouse
Meeker Equipment's baghouse is an environmentally friendly system which exceeds EPA requirements.
Offered in 20,000 cfm on up
Portable, stationary and skid-mount arrangements
All-welded construction
Modular design
Bag spacing promotes better pulsing
PHCo Lo-Density Tank Heaters
Process Heating Co. offers unitized heaters that can easily install in vertical or horizontal tanks.
Units are designed to dissipate heat at 3 watts per square inch on the heater's sheath using any voltage, which reduces the chances of damaging the contents or coking on the heater sheath
Heaters are designed to heat tanks from 2,000 to 50,000 gallons
Require no special insurance certifications
PHCo Circulating Heater
Process Heating Co. offers its hot oil heat transfer system with Lo-Density patented Coil-Lock design heating elements that eliminate any coking or carbonization of your transfer fluid.
ASME coded exchanger with high density insulation and an aluminum jacket
Motor-driven, high-temperature pump with built-in relief for circulating heat transfer fluid
U.L.-listed industrial control panel in a weather-proof enclosure with a 7-day, 24-hour time clock for early morning startup
PHCo Inline Fuel Oil Preheaters
Process Heating Co.'s inline fuel oil preheaters are fully automatic, easily controllable, electric inline heaters.
ETL and U.L. listing
Low-watt density
Dry well heaters
AESCO/Madsen DM Series Drum Mixers
The DM Series drum mixers come in sizes ranging from 40 to 223 tph.
Drums made of 5/16-inch A-572 Grade 40 alloy steel plate
Heat-resistant paint
High-efficiency flighting system
Drums driven by four machined and heat-treated trunnions secured to shafts by easy-to-assemble/disassemble locking ring assemblies
BMG Seltec TrakitGPS
The TrakitGPS vehicle tracking and reporting module is designed for concrete, asphalt and aggregate producers.
Provides to-the-minute order tracking, real-time truck mapping and two-way communication for fleet tracking and management
Provides time-stamped custom reports on employee activity, including location, speed, status, stops, etc.
Installs in less than a day and requires no separate hardware other than a Nextel GPS-equipped cell phone
Gencor Ultraflame Burner
The Ultraflame burner is a "total air" system providing 100 percent control over air and fuel.
Two-stage combustion design provides all the air required for complete combustion and flame shaping
Can be used in any rotary drying process that requires between 25 million and 200 million BTU per hour of heat release
Reduces noise
Allows the use of conventional fuels such as oil, natural gas, LP or coal
AESCO/Madsen Tanks
AESCO/Madsen manufacturers a complete line of stationary, portable and vertical apshalt storage tanks
Capacities range from 10,000 to 30,000 gallons
Thoroughly insulated with an aluminum cover
Mounted on a rugged structural underframe
Engineered to meet contractor's requirements
Can be supplied with unitized electric heat, coiled or direct-fired systems
Automatic temperature controls, hi-level and low-level shutoffs and optional tank mixers
BDM Engineering Tanks
BDM offers stationary or portable asphalt tanks featuring heavy construction.
Three types are available: direct fired, coiled or electric
Capacities range from 10,000 to 30,000 gallons
CAL SpraySaver
CAL Technologies features the SpraySaver Automatic Truck Bed Lubrication System designed to minimize truck downtime, as well as improve and control release agent usage.
System is activated by electronic sensors and automatically sprays the truck bed for about 20 seconds
Heavy duty overhead steel rack, hood and windskirts, release agent injection pump, controller and operating software as well as angle iron braces to mount the injection pump and controller are standard
Compatible with all available release agents but AS-Release from Asphalt Solutions is recommended
Highland HiTemp & HiTemp Dry-Fall Paint
Highland offers three HMA plant paint systems.
System #1 offers high quality heat protection and durability for abrasive working environments
System #2 places HiTemp paint where you need it most — in hot spots — and economizes in other areas
System #3 features dry-fall paint which eliminates paint overspray damage
Heatec Inc.
Heatec offers hot oil heaters and other equipment.
Heatec manufactures hot oil heaters, asphalt storage tanks, fuel storage tanks, fuel preheaters, asphalt metering systems, additive tanks and more
MPAQ TouchBatch Asphalt
Automation for asphalt batch, cold feed and silo load-out is now available in the new TouchBatch technology from MPAQ Automation.
Just one MPAQ computer is needed to automate the cold feed section, the batch plant and the silo load-out
With the batch module, the operator can quickly load each truck or replenish the silo storage
The cold feed module controls the aggregate flow rate according to mix design specifications
The silo load-out module loads trucks with automatic free-fall compensation times with the gates to avoid overloading the truck
Dillman Silo Systems
Dillman Equipment's high-capacity silo systems offer 200- to 3,000-ton capacity multiple bin systems.
All welded support structure with cross bracing
Dual clam gate design with safety gate doors
Standard hot oil heating for cone with options for electric systems
Double welded seams for structural integrity
OSHA standard hand rail, walkway, and checker plate decking
Double layered industrial grade insulation for maximizing heat retention
High-Low bin indicators
Dual gate batcher minimizes segregation in the silo
Kolberg-Pioneer Fast Trax FT4240
The FT4250 horizontal shaft impact crushing plant is designed to simply drive off the transport trailer and start crushing.
Crushes on the go to allow finished product to be windrowed as material is fed into the plant
Diesel powered with full hydraulic controls for the feeder, crusher, onboard conveyors, vibrating screen, optional cross-belt magnet and tracks
BHA Visolite
Visolite leak detection powder is a lightweight fluorescent powder that is injected into the baghouse.
Powder follows the path of least resistance, accumulating around the source of leakage whether it is a weak area in the medium or a bad seal
A monochromatic light is then used to pinpoint the exact location of air leakage and its severity
Visolite test is easy to perform and decreases downtime and maintenance, freeing up your staff to handle more important duties around the plant
BHA ThermoPleat
The BHA ThermoPleat filter elements are designed to operate at high tempeartures in asphalt plant
baghouses.
Two to three times more total filtration area than traditional filter bags utilizing the existing baghouse footprint
Significantly lower operating differential pressure
Increase total airflow through the baghouse
Reduce installation time due to one-piece design
Reduce air-to-cloth ratios in existing systems
Less compressed air usage needed to clean filters
Kenco Uni-Mix Pugmill Parts
Kenco offers a range of pugmill parts that provide greater wearlife and abrasion resistance to increase the productivity of asphalt plants.
Parts include the Uni-Mix System, Pugmill Liners, Gate Assemblies and Seal Collars
All are designed to be easily and quickly installed
JWS Apex 3 Loadout System
Version 3 of the Apex Loadout system integrates with the Apex Ticketing module to load and ticket trucks from overhead bins or silos.
System can be installed with new plants or retrofits
Operates on standard Windows XP PC
Three available weighing methods
RFID check-in and web-based data inquiry also available
Kenco Uni-Flights
Kenco drum/dryer flights provide long wearlife.
Come with a 5-year veiling guarantee (restrictions apply)
Consist of K-Chrome 700 castings bolted to a pre-drilled steel mounting base
With a nominal hardness of 700 Brinell, these castings will not fold over or distort from wear
Summit Filter Felts
Summit Filter's line of high efficiency high temperature felts handle submicron particles, extend bag life and allow usage of more RAP.
Golden Eagle offers over 10 years of success handling fine dust in asphalt plants
Golden Phoenix is designed for problem applications with substantial levels of submicron particles
Companies in this article