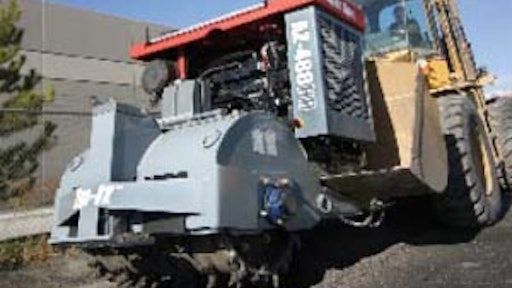 Asphalt Zipper AZ-480HD Reclamation/Milling Attachment
The AZ-480HD magnum-powered reclamation/milling attachment from Asphalt Zipper quickly attaches to the bucket of a loader using the Zip'n-Go bucket slot.
Designed for most types of asphalt removal, including utility trenches, road reclamation, road repairs, soil stabilization, parking lots and driveways
Can grind up to 12 inches deep
Fabick Poured-On Liner
Poured-On high-impact liners offer a durable, protective coating for your truck bed or trailer.
No tiny air bubbles trapped in the product during the curing process
Finished product is self-leveling, offers improved load-release and can give even an old, uneven surface a strong, level finish
No bolts, no holes, no vapor or fumes, no overspray and no taping or masking
TransTech Shoulder Wedge Maker
The TransTech Shoulder Wedge Maker shapes the edge of an HMA mat on shoulderless roads.
Mounts on the screed extension face against the end gate of any brand paver
Creates 30-degree slope off the edge of the mat
Kit includes wedges and mounting hardware for both left and right sides of paver
Citgo CITGARD 600
CITGARD 600 heavy-duty engine oil is designed to help optimize engine life, extend drain intervals and reduce operating costs.
Performance-engineered additives help protect against corrosion and wear
Meets latest warranty requirements of Cummins, Caterpillar, Mack, Detroit Diesel, Navistar International, Volvo, Allison, CEA, John Deere, US CID and other engine manufacturers
Meets API CI-4 Plus certification
Contractors-Service Rumble Track
The Contractors-Service Rumble Track is designed to be placed on jobsite exit roads where they join public streets.
Reduces need for water trucks and sweeping
Complies with Storm Water Act, AQMD Rule #403 and PM10 in Southern Coast Air Basin
Helps solve PM10 dust abatement, soil stabilization and debris track out problems
Humboldt Roughometer II
The Roughometer II can be used to assess paved and unpaved roads by providing objective and repeatable data regarding the actual roughness level of the surface.
Easily mounted to almost any vehicle
Gathers data and transfers it to a PC
Displays information in International Roughness numbers in both graphic charts and tables
Data can be transported to spreadsheet and database programs
Champion Vibratory Compaction Roller
Champion Motor Graders offers its vibratory compaction roller.
Compact areas for road surfacing or roll finished asphalt
Widths from 48 in. to 72 in.
T-Rax Adjustable Hauling System
The T-Rax Hauling System can handle virtually any job, large or small, and can be installed on any truck.
Constructed from 11-gauge steel
With the patented pin system, the T-Rax easily adjusts to perform various tasks, including ladder rack winch lifting system; work bench; two-level mover; cable/wire caddy and more
Gehl E-Series Skid Steers
The six E-Series skid steers range from the compact Model 3640E with a 1,175-lb. rated operating load to the 6640E with 2,900-lb. load rating.
Deutz 2011 Series diesel engines power larger models and range from 46 hp on the 4640E to 82 hp on the 6640E
Turbocharged configurations standard on the 6640E and optional on the 4640E and 5640E
35-hp 3640E and 46-hp 4240E feature TNV Series Yanmar naturally aspirated diesel engines
All-Tach universal-type quick-attach system standard with optional Power-A-Tach system
Featherlite Model 1610
Featherlite's Model 1610 trailer features Advantage wood flooring with high-moisture resistance.
Corrosion-resistant aluminum construction
2-inch radius aluminum roof rail
3/8-inch-thick Advantage wood lining on sidewalls
8- to 18-foot lengths
Optional rear load ramp
Safety Flag Safety Vests
The safety vests from Safety Flag Co. of America are Class I, Class II and Class III ANSI-compliant.
Choose between fluorescent orange material with lime reflective striping or fluorescent lime material with silver reflective striping
Available in sizes small/medium to 5X large with Velcro or zipper closures