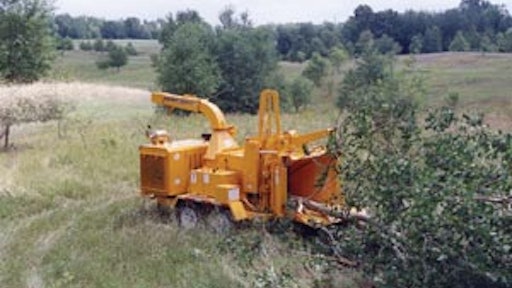 Take a look through the next couple of pages for the latest equipment available. You'll find a solid sampling of both new machines and models that have been recently revamped by the manufacturers.
Bandit Model 1990 Chipper
The Model 1990 hand-fed chipper effectively processes large-diameter, forked trees. Fashioned after the Model 1890, the Model 1990 features a wider drum and a larger chipper opening measuring 26.5 in. high by 24.5 in. wide. It is equipped with a powerful feed system and available with engine options up to 140 hp. The heavy-duty version has engine options up to 250 hp and a feed system similar to Bandit's whole-tree chippers. A 305 Cat rubber track undercarriage is available.
Brown Bear Tool Carrier Tractor
The Model 200B with auger backfiller attachment now features a 130-hp Cummins 4BTA3.9 diesel engine. The unit works parallel to the trench, backfilling in one continuous motion without requiring any shuttle operation. The auger's pulverizing action reduces the fill to granular size and ensures no voids for better compactibility. Fill is placed into the ditch line on an incline, allowing it to roll gently onto the pipe or cable. Filling speed is up to two to three times faster than with a blade or bucket. Other quick-change implements include angle blades, forklifts and brush cutters.
JLG Compact Telehandlers*
JLG's compact telehandler has a 23-ft. lifting height with a maximum capacity of 6,600 lbs. and a forward reach of 12.8 ft. Features include a cab designed for improved operator visibility, as well as 140° carriage rotation. A mechanical quick switch enables fast changes from forks to other attachments. Other features include a 100-hp Deutz diesel engine, four-wheel drive, 45% gradeability and compact dimensions. Four-wheel steering can be used for circle steer, crab steer or front-only steering. A slightly smaller model with similar design features delivers a 5,700-lb. lifting capacity and 19-ft. maximum lifting height.
Multiquip Gas Rammers*
This line of gasoline-powered rammers offer contoured handles that reduce vibration up to 61%. Functional "duck bill" fuel caps and diaphragm carburetors allow operators to lay down each unit without fuel spills. The 152-lb. MT-65HA delivers 2,900 lbs. of impact force at 645 to 695 bpm. It is fueled by a 3-hp Honda GX100. The 179-lb. MT-74FA generates 3,100 lbs. of force and has a 3.5-hp Robin EH12. The MT-84F delivers 3,500 lbs. of force at 660 to 700 bpm at travel speeds up to 36 fpm. It is driven by a 3.5-hp Robin EH12.
Subaru Robin Semi-trash Pumps*
The 2-in. PKX201ST has a 4.5-hp Subaru Robin EX13 engine and provides a delivery volume of 153 gpm. The 3-in. PKX301ST has a 6-hp EX17 and a 246-gpm delivery volume. Features include a hardened cast-iron volute, abrasion-resistant, cast-iron, three-blade impeller and replaceable wear plate. The advanced volute design drives water straight into the cavity for fast self-priming. The automatic decompression, easy-pull recoil starter and Hot Spark ignition system provide easy, reliable starting.
Gehl E-Series Skid Steers*
The six E-Series skid steers range from the compact Model 3640E with a 1,175-lb. rated operating load to the 6640E with a 2,900-lb. load rating. Deutz 2011 Series diesel engines power the larger models and range from 46 hp on the 4640E to 82 hp on the 6640E. Turbocharged configurations are standard on the 6640E and optional on the 4640E and 5640E. TNV Series Yanmar naturally aspirated diesel engines are used for the 35-hp 3640E and 46-hp 4240E. The All-Tach universal-type quick-attach system is standard with optional Power-A-Tach system available. Other options include two-speed drive, Hydraglide ride control and high-flow auxiliary hydraulics.
Manitou MT 6034*
The MT 6034 telescopic handler has 34 ft. 3 in. of lift height with a 6,000-lb. rated operating capacity. Features include a welded box-section design boom, rugged frame with reinforced C-channels, internal wet disc brakes and a negative (spring-applied, hydraulically released) parking brake system. Power is supplied by a 99- or 115-hp John Deere turbocharged diesel engine. A roomy operator compartment provides pilot-assisted controls. Other standard features include a three-speed powershift transmission, three steering modes and a quick-attach mounting system.
Terex HS90 and LP95 Power Trowels*
The Bartell HS90 overlapping, high-speed finishing trowel and the Bartell LP95 non-overlapping, lightweight panning trowel are powered by a 35-hp air-cooled Briggs & Stratton V-Twin engine. The drivetrain comes with continuously variable transmission primary reduction, stock "Powergrip" secondary reduction and heavy-duty worm gear final reduction. The HS90 has dual five blade trowels and is capable of a 240-rpm maximum operating speed. The LP95 has dual four blade trowels and achieves speeds up to 180 rpm.
LeTourneau 50 Series
The 50 series loaders feature the LINCS module-based computer system, which digitally regulates and monitors hydraulic, electric, engine and traction-drive functions. The three models range from 84,000- to 160,000-lb. operating capacities, and are suited for center-loading haul trucks with 150- to over 400-ton payload ratings. The L-2350 model includes a standard 53-cu.-yd. bucket. All models incorporate twin-joystick operation and shift-free independent four-wheel electric drive.
Morbark Stump Grinders
The Models G52SP and D52SP stump grinders offer a unique cutter wheel and tooth design that enables them to grind stumps more quickly. The patent-pending boom design creates a 52-in. cutting arc. The hexagon-shaped cutter wheel offers less resistance and friction through the stump. Six multi-tipped cutting tools fastened with one bolt each provide the grinding performance of 24 teeth with quick, easy cutter change. Up to 8 cu. ft. of chip retention space allows for more continuous grinding and less repositioning.