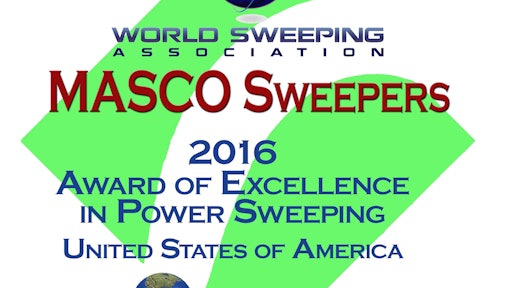 At the 2016 National Pavement Exposition the World Sweeping Association presented its 2016 Award of Excellence in Power Sweeping to Larry Dyck, founder of MASCO Sweepers, originally Mr. Air Sweepers.
Around 1975 Dyck met Leonard Vella, co-owner of a sweeping company that relied on ride-on sweepers to sweep parking lots. But Vella needed three pieces of equipment: a trailer, the sweeper and a tow vehicle. He told Dyck, who was manufacturing trailers for flat-bottomed boats, he needed a small parking lot sweeper they could mount onto a truck. Dyck accepted the challenge and made a sweeper outfitted with a Wisconsin two-cylinder motor that fit onto a Ford Courier, the smallest pickup made at the time.
In 1976 Dyck, Jim Mills and Frank Dorsa incorporated the Mr. Air Company, which offered one model in two styles: one mounted onto a pickup truck and the other made to slide into a truck bed. In 1980, Larry's brother, Mike, joined the company as marketing director.
The most significant Mr. Air innovation was moving the sweeping head to the rear of the sweeper where it remains today. Flat tires were virtually eliminated, dust generated by the pickup head no longer filtered up through the chassis into the cab, the rear-mounted head could be lifted higher (so it wasn't as prone to scraping over uneven areas), and access was easier for head adjustments and repairs.
WSA also credits MASCO with founding the first power sweeping association, National Contract Sweepers Institute, through discussions with the American Public Works Association. "We founded a sweeper association to teach contractors about their costs and that they have to stay up with all of those expenses so they know they're making money," said Larry Dyck. "Unfortunately, the people who enter the business often don't know their costs and go to existing clients with the promise of doing the same job for less money. That simply isn't possible."
Mike Dyck retired from MASCO after more than 30 years in 2015 and today Larry's son, David, manages operations and his daughter, Lisa, runs the marketing department.
Larry Dyck says the company's "bread-and-butter" continues to be their model 1600 air sweeper, which is available in a variety of configurations including engines ranging from 16-hp to 60-hp and fans ranging from 19-in. to 30-in. diameter.

For complete award details and history of MASCO visit http://www.worldsweeper.com/SweepingExcellence/2016/index.html.