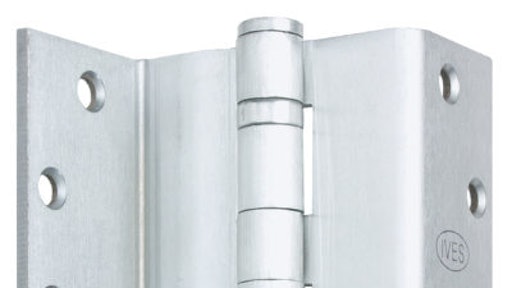 iDigHardware
On last week's Fixed-it Friday post, several people commented that swing-clear hinges would have been a good (and code-compliant) alternative to the "fix" that was welded to the jamb on a fire door assembly. This prompted a Quick Question from one of iDigHardware's newer readers:
What is a swing-clear hinge and how would I know when to choose this type of hinge over other hinge types?
Swing-clear hinges are easy to pick out of a line-up, because each hinge leaf is L-shaped, with a 90-degree bend. The purpose of this type of hinge is to swing the door completely out of the opening when the door is open 90-95 degrees. With standard hinges, the door edge would sit within the clear opening of the frame, exposed to the possibility of damage from carts or hospital beds.
The most common location for swing-clear hinges is in health care facilities, or in other locations where there is a need to maximize the clear opening width. I have sometimes seen them used on existing doors that provide less than the required 32-inch clear opening width when hung on standard hinges.
One thing to watch out for with this type of hinge is whether there is enough space to accommodate the door and the latching hardware when the door is in the 90-degree position. If there isn't enough clearance behind the door, it won't open to 90 degrees and the benefit of using swing-clear hinges will likely be affected. Another consideration is the appearance of the hinges when the door is closed. Here are a couple of photos of a door with swing-clear hinges, in both the open and closed positions.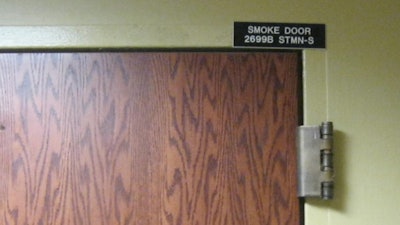 I found this quick video from Architectural Builders Supply that shows a door that is equipped with swing-clear hinges:
There's a Back-to-Basics post that I wrote a while back, which covers various hinge types including swing-clear hinges. Here's an old post about why you might choose pocket pivots over swing-clear hinges, and a Fixed-it Friday post featuring DIY swing-clear hinges. If anyone has photos of openings with swing-clear hinges that would help clarify their purpose, please send them along!
This article is reprinted with permission andwas written by Lori Greene, Manager – Codes and Resources with Allegion and originally ran on https://idighardware.com