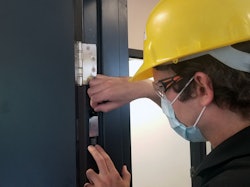 QAI
Fire door and frame labeling is a crucial requirement to keeping your fire protective openings safe for your building and the people that use them.
Often, when strolling through your building you notice door assemblies that have labels painted over, damaged, or missing. Authorities Having Jurisdiction (AHJs) notice this too and will require that you address such deficiencies in a timely manner to ensure your fire protective openings are safe and code compliant.
There are numerous agencies currently offering the field evaluation and labeling of Fire Protective Openings per NFPA 80 "Standard for Fire Doors and Other Opening Protectives", but don't be fooled. Agencies providing these services must be accredited for multiple services in relation to the fire performance, rating, and certification of fire protective openings. The International Fire Code (IFC) makes reference to the agency performing the field evaluation being "accredited for Listing". In order to be accredited for Listing a product, equipment, material, or assembly; the agency must be well versed in the appropriate test methods, product construction, and, like QAI, hold accreditation to properly evaluate the product in accordance with ISO 17065 "Conformity assessment — Requirements for bodies certifying products, processes and services". The "evaluate" term is extremely important as well since the key aspect of inspecting a Fire Protective Opening is to ensure it will perform as "tested" and "listed", so it can be confirmed via NFPA 80 that the opening and hardware support the required fire resistance rating as defined in NFPA 252 or UL 10B/C. The intent of this code language is to validate and provide confidence to the authorities having jurisdiction that the agency evaluating and labeling fire protective openings is competent in the testing and manufacturing to ensure the opening is fit for function, and not only installed per NFPA 80. The involvement of a 3rd party certification agency in the initial performance evaluation (testing), continued surveillance of manufacturing (periodic inspections), and the published listing (certification) of a product, equipment or material does just that.

QAI is an accredited testing (ISO 17025), inspection (ISO 17020) and certification (ISO 17065) agency, meaning QAI can evaluate and label products to show compliance to the appropriate standards, in the lab and field. QAI's personnel have extensive experience dealing with the inspection and relabeling of openings to the requirements of the applicable test standard and building code. Compliant fire-rated door assemblies and openings are labeled to the appropriate rating and include the QAI certification logo, providing AHJ's and consumer's confidence the work done was by an agency able to offer services beyond inspection.
With multiple locations and inspectors located across North America, QAI is able to provide services with ease of access to both laboratory and on-site services. Our Fire-Rated door assembly knowledge and capabilities allows us to focus on execution and service, so you can get your door assemblies re-qualified with no hassle. QAI also supports fire door and frame machiners and distributors so they can apply labels under a follow-up factory inspection program that is accepted throughout North America.
Service Overview
● Field evaluation of the protective opening and surrounding wall assembly. Application of the QAI NFPA 80 fire rated label (compliant openings).
● Testing of fire door assemblies and hardware to UL, ULC, and ASTM standards
● Certification of fire doors, glazing, and hardware to code requirements
● Evaluation of unique designs and custom products to code requirements
● Inspection of manufacturing and machining facilities to ensure ongoing compliance
● Fire door and frame labelling service (factory and on-site)