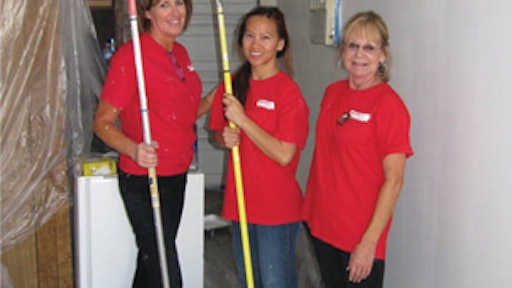 ANAHEIM, Calif. – As the 10-year anniversary of the war in Afghanistan and Iraq approaches, thoughts turn to men and women who have risked their lives and left their families at home to serve and protect all of our families. The McCarthy Heart Hats of Newport Beach, McCarthy Building Companies employee volunteer group, have been reaching out to help military personnel and their families over the last several years through clothing and holiday toy drives as well as other service activities. After learning more about the plight of homeless and disabled veterans in Orange County, they wanted to do even more to help these forgotten and neglected heroes who have found themselves on hard times.
Just recently, over a dozen Heart Hats conducted volunteer construction work including hanging drywall; painting; installing carpeting, kitchen appliances and bathroom fixtures; building an outdoor shed; and conducting yard cleanup and landscape improvements at the Veterans First housing complex in Anaheim, Calif. Veterans First is a non-profit rehabilitation facility that provides housing and financial assistance to homeless and low-income military veterans in Orange County. The services are provided in an effort to help disadvantaged veterans get back on their feet so that they may live a self-sufficient, productive life again.
In addition to providing labor for the facility improvements, one extremely generous McCarthy employee donated over 28 new mattresses and box spring sets and several others gave sheets, blankets and other bedding to the veterans. Additional volunteers and donors from Bergelectic, Borbon, Inc., Capparelli Contracting, Signature Flooring and Southern California Environmental helped with the improvement work. All in all, approximately $20,000 in labor and donations were made by this team of construction workers, some of which are U.S. veterans themselves or have family members currently serving our country.
"It's wonderful to see our area's contractors dedicate their time and effort during these tough times in order to help our heroes," said Justin Smith, Community Relations Director of Veterans First.  "With the poor economy, lack of jobs and the high cost of living in Orange County, many veterans find themselves struggling to keep a roof over their heads and others find themselves living on the streets. There are nearly 900 homeless veterans in Orange County alone. We are extremely thankful to volunteers and donors like the Heart Hats who continue to help us provide services such as housing for Orange County's veterans in their time of need," said Smith.
This cause hits close to home and means a great deal to volunteers such as Ray LaTour, MIS engineer at McCarthy, who also served our country. "As a U.S. Navy disabled veteran, helping veterans and especially disabled veterans is extremely important to me," said LaTour. "One day I may need help for a family member or myself. Giving back to those who took up the calling of defending our freedom and our way of life is priceless, whether it's a simple thank you, a difficult home remodel or raising funds for the cause."
The Heart Hat service project was organized by Jerod Plante, McCarthy assistant project manager; Dana Greaney, administrative assistant on the John Wayne Airport Terminal C project; and Linda Osborn, office manager at McCarthy's Newport Beach office.
About Veterans First
Founded in 1971, Veterans First is Orange County's only 501c(3) non-profit agency that provides services exclusively to homeless and low-income military veterans and their families.  Through the non-profit's Santa Ana, Calif. service center and its nine houses within Orange County, Veterans First assists those who have served our country with housing, counseling, transportation, food as well as job training and placement assistance.  For more information, please visit www.veteransfirstoc.org.
About McCarthy Heart Hats
The McCarthy "Heart Hats" community involvement program is dedicated to encouraging, supporting and recognizing McCarthy employees' volunteer efforts in a variety of causes to ensure real needs are being met in communities where employees work, live and play.  McCarthy employees are as passionate about building better communities as they are about construction. In addition to recognizing outstanding employee volunteers and providing a company-wide paid volunteer day, McCarthy "Heart Hats" donates countless hours of in-kind services and monetary contributions to improve communities each year. 
Founded in 1864, McCarthy is the largest construction firm in Orange County, and the nation's 10th largest domestic builder (Engineering News-Record, May 2011). In addition to Newport Beach, McCarthy has offices in San Diego, Sacramento and San Francisco, Calif.; Phoenix; Las Vegas; Dallas; Houston; St. Louis and Atlanta. McCarthy is 100 percent employee owned.  More information about the company is available online at www.mccarthy.com.
Companies in this article