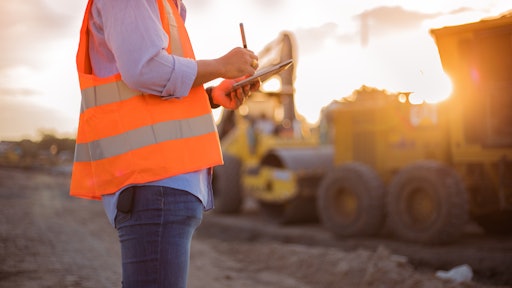 Adobe Stock/tuiphotoengineer
The good news: the industry should see more money to rebuild our crumbling infrastructure before 2021 ends. The bad news: most construction contractors are not prepared to take on more work at the level these projects are going to require. An influx of work will require more crews, more equipment and more technology to manage all of the pieces.
Still, there's hope. With a little preparation now, contractors can position their businesses to be more successful in bidding and completing projects on time and within budgets. This Q&A with John Meibers, VP and General Manager of Deltek + ComputerEase provides more insight.
Q: Why is it important to have a comprehensive plan for every project? What can happen if projects are not thoroughly vetted and executed?
Schedule delays and rework can be very costly. If you don't have a plan in place, you are going to end up with delays and rework. It is important to properly vet each project especially if you are beginning a project in an area (i.e., type of work, geographic region, type of customer) that you may be unfamiliar with. The investments to prepare a winning bid, coordinating subcontractors and pivoting to execution are all critical in the path to a successful project lifecycle. When not properly vetted, it can set you up for compliance issues, schedule delays or cost overruns
Part of the comprehensive plan is making sure all parties (contractor, architect and owner) are on the same page and working towards a common goal of a successful project. If the project is not properly executed, the project can fail in many ways including schedule delays, cost overruns and legal issues.
Q: The construction industry is notorious for not adopting technology and market intelligence. Why is this a problem?

Lacking good market intelligence and not getting involved early in project planning is the primary reason companies lose important bids. Reacting to inbound RFPs puts companies in reaction mode preventing them from putting their best foot forward and helping to shape the project requirements.
The number one problem caused by not adopting technology is poor communication. Not being able to properly communicate between the field and office leads to many inefficiencies such as poor job costing, decreased labor production, not properly coordinating material deliveries, and having the right tools and equipment onsite.
Not having the right technology to deliver real-time job costing prevents you from being proactive with real-time decision making and adjustments on the job. The time it takes for a contractor that has not yet adopted technology to execute things manually takes away from the time that could be spent on increasing their overall productivity.
With today's labor shortage, we're also seeing the contractor who is slower to adopt technology is struggling to attract and retain a talented workforce.
Q: How does Deltek help contractors overcome the technology learning curve associated with trying something new?
Deltek is a global provider of enterprise software and information solutions for project-based businesses. There are currently more than 30,000 organizations – and millions of users in over 80 countries around the world rely on Deltek for project intelligence, project management and collaboration.
With Deltek's purpose-built, easy to use software and information solutions, we enable construction companies to be proactive in pursuit of new projects, digitize traditional processes and drive efficiencies in all areas of a project. Our software solutions are designed specifically for seamless integration. For a traditional industry like construction, to be able to seamlessly integrate new software into already established processes is key for success.
Deltek's 40 years of construction experience means we can provide a consultative approach to companies looking to begin their digital journey. We understand the challenges of adopting new technology and our goal is to eliminate the fear of new software and shorten the learning curve with a hands-on implementation and support approach.
Q: As more work is expected to come down the pipeline, how can technology help road building contractors better execute the projects they already have?
For road building contractors, technology can help with equipment costing, production and billing. Deltek helps in many ways – from properly tracking equipment cost and maintenance schedules, to enabling road building and infrastructure contractors to report time and daily production from the field, to making it easier for road and infrastructure contractors to execute proper billing and not disrupt their payment or cash flow – and much more. With the prospects of more projects being driven by infrastructure investments made by public sector agencies, Deltek can help contractors get ahead of planned projects and be proactive in sales and marketing efforts.
Q: How can technology help contractors get a head start on planning for future projects?
For companies doing business in the vibrant public sector market, technology can help contractors gain visibility on capital investment plans of government agencies and build marketing plans on market intelligence.
Deltek can help contractors get a head start on planning by providing historical job cost reports and analysis to see which types of work typically come in under or over budget. This is critical info for the estimating team to use when bidding future projects. One of the key factors in estimating is labor production rates. With Deltek's productivity tracking on current jobs that data can be used by estimators when bidding future jobs. And tracking your win/loss rate on certain types of projects or with certain types of contractors can help you know which jobs you should be focusing your efforts on in the future.
Q: How does this technology allow contractors to automate contracts, research competitors and secure subcontractors and why is this important?
The Deltek + ComputerEase solution allows contractors to solicit and track all of the bids for the various trades that they receive from their potential subcontractors including selecting the low bidders and issuing sub-contracts. With our CRM component, we can track everything from the initial pre-bid stage through bidding including the analysis of who the competition was on each job.
For companies doing business in the public sector, Deltek's GovWin IQ solution can help you target upcoming project needs and provide critical market intelligence to help companies improve their win rates and partner more effectively.
Q: How does Deltek help contractors secure bids?
With our estimating partners, we are helping contractors not only prepare and bid on projects but provide a seamless integration from the estimate to the job setup (budget).
Soliciting competitive bids from suppliers and contractors is a big part of a contractor securing their bid. With Deltek + ComputerEase, you have the ability to solicit and properly track bids and evaluate and use the low-bidder from lower tier subcontractors and suppliers.