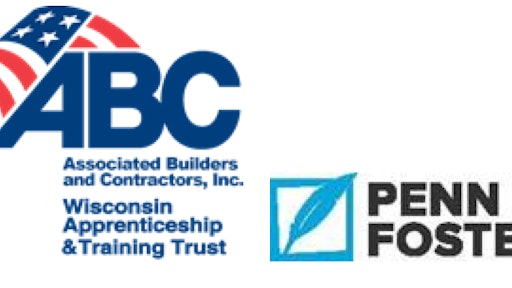 ABC (Associated Builders and Contractors) of Wisconsin Apprenticeship and Training Trust has partnered with Penn Foster, a leading middle skilled education and skills training provider, for which Penn Foster will provide an array of construction courses available to its member companies for entry-level employees and apprentices. The courses, all available online, are designed to help those new to construction and those already working in the trade to more effectively prepare to enter the ABC of Wisconsin apprenticeship program.
The new Penn Foster courses, available now, are divided into two tracks: The Foundational Track offers courses for those preparing to enter the construction industry, and include Accuplacer exam preparation, algebra and Construction Industry Essentials — a series of courses that teach the basics most sought after by employers, including safety, measurements, and the tools most commonly used in the trade. The Continuing Education & Training, for current employees or those entering apprenticeships, includes construction print reading and 2017 NEC (National Electrical Code) courses designed to meet the needs of specific trades. Members can view a complete list of courses here.
"ABC of Wisconsin is excited to launch this initiative to underwrite courses on behalf of our members, which reinforces our goal to help them learn and improve their skills, so they can more quickly advance in their construction careers," said Wayne Belanger, Director of Education, ABC of Wisconsin. "By partnering with Penn Foster, a prominent force in workforce training and development, we can also do our part to address the skills gap that continues to cause labor market challenges in the construction industry."
Penn Foster combines a rich history in skilled trades training and apprenticeships with a proprietary technology-enabled platform supported by comprehensive academic, professional and personal support and coaching.  As the trusted training partner to more than 700 skilled trades enterprises, Foster develops the essential job skills that launch and accelerate careers, drive business outcomes and set new standards in workforce performance.  Training participants can take courses on their own schedules, and will have access to Penn Foster's full platform support.
"ABC of Wisconsin is an incredible organization that is first and foremost concerned about the success of its members," said Collin Gutman, Head of Skilled Trades, Penn Foster. "We couldn't be happier to come alongside the organization and bolster its already impressive level of support with courses their members can take that can help them along any point in their careers in construction."