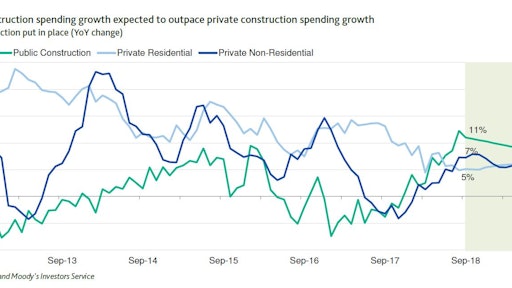 The outlook for the U.S. building materials industry has changed to stable from positive, Moody's Investors Service says in a new report. After four years of strong growth, organic operating income growth for rated building materials companies will decelerate in 2019 to an annualized pace below 7%.
Moody's industry outlooks reflect its assessment of the fundamental business conditions in a given industry over the next 12 to 18 months.
"We expect lower organic operating income growth in the building materials sector over the next 18 months, as growth in private construction will moderate," said Griselda Bisono, Moody's AVP-Analyst.
Moody's forecasts single-family housing starts to grow 4.5% in 2018 and 3.2% in 2019, down from an average of 9% to 10% growth from 2015-2017. Multifamily housing starts will grow 7.6% in 2018 and 2.4% in 2019 but remain weak by historical standards. Nonresidential construction spending is forecast to grow 4% in 2019, lower than 2018 expectations of 4.7%.
Meanwhile, public infrastructure spending remains robust and will continue to grow in 2019, albeit by a slightly slower rate of 8%, as states continue to pass new long-term legislation supportive of highway construction, added Bisono.
Other report highlights:
Private residential construction growth is decelerating, with several key factors pointing to a slowdown, including rising mortgage rates and a decline in housing affordability
Moody's expects private residential housing demand to remain stable, supported by solid wage and job growth, low unemployment and millennials' growing need for housing
Private nonresidential construction spending will also see slower growth in 2019
Click here to download the full report.