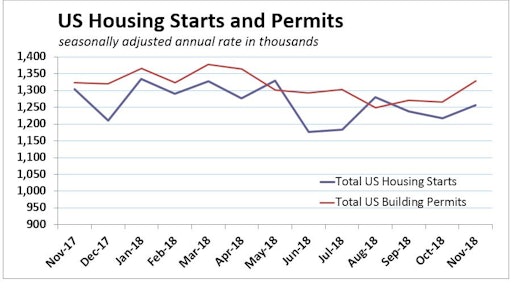 Data: U.S. Department of Commerce
Total housing starts came in slightly stronger than forecast, rising 3.2% during November, according to the monthly estimate by the U.S. Census Bureau. All of the monthly rise is attributed to a 22.4% jump in the volatile multifamily segment. Single-family starts dropped 4.6%, to an 824,000-unit seasonally adjusted annual rate.
November marks the third consecutive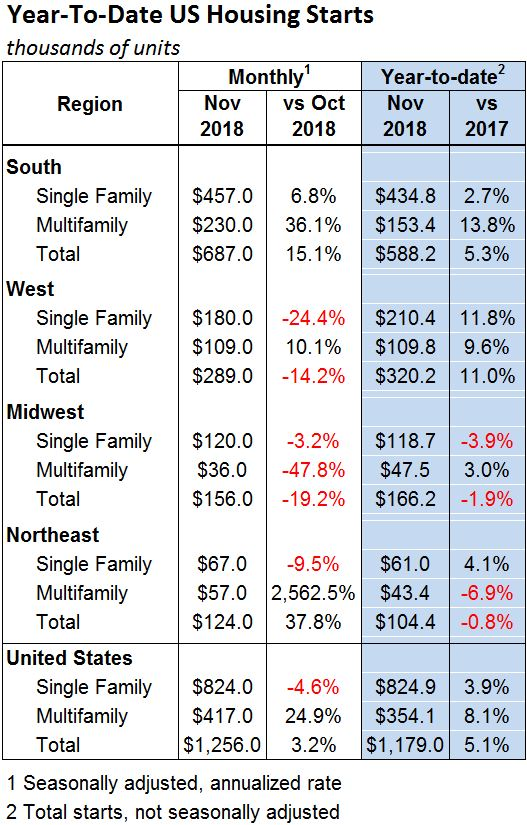 monthly decline and brings single-family starts down to the lowest level since May 2017. Total starts year-to-date were 5.1% above the first 11 months of 2017.
Revisions also showed housing starts fell in October instead of rising as previously reported. Underscoring the housing market weakness, single-family home completions dropped for the third straight month in November to their lowest level in more than a year.
"The residential construction market hit the pause button in 2018," CNBC reported Aaron Terrazas, Zillow senior economist commenting. "Speculation has already begun as to whether the construction industry is a macroeconomic canary in the coalmine signaling a larger shift to come."
Some of November's weakness could be attributed to wildfires in California. The West saw a 24.4% plunge in single family starts, a pace well below recent history. Building permits in the West have also largely held up this year and have not seen such a dramatic drop-off.
But single-family starts also fell substantially in the smaller Midwest and Northeast regions.
Total starts surged 15.1% in the nation's largest home-building region, the South. The seasonally adjusted gain, however, results from the lack of a falloff in actual starts, making the seasonally adjusted jump less of a positive.
Building permits jumped 5.0%, again with nearly all the gain occurred in the multifamily segment, which jumped 14.8%. Single-family permits edged up just 0.1%.
"Given the permits data, we expect single-family to remain sluggish and look for multifamily starts to remain near their recent levels," the Wells Fargo Economics Group pointed out in their analysis of the monthly estimates.
Housing Starts Rise in November