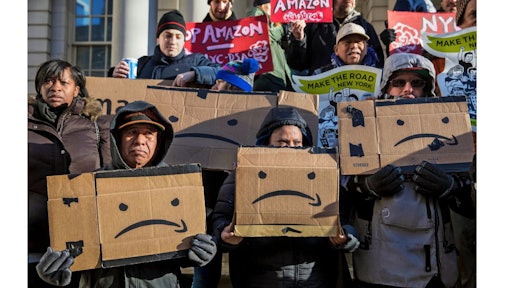 Amazon on Thursday canceled plans to build a corporate campus in New York City after facing unexpectedly fierce backlash from some lawmakers and unions, who contended that a tech giant did not deserve nearly $3 billion in government incentives.
The company chose Long Island City, Queens, as one of two winning sites for its expansion, saying that it would create more than 25,000 jobs in the city.
But the agreement to lure Amazon stirred intense debate about the use of government incentives to entice wealthy companies (New York offered Amazon one of the biggest deals ever), the rising cost of living in rapidly gentrifying neighborhoods, and the city's very identity.
Many critics were angered that the deal-making circumvented the normal land-use process and essentially eliminated any veto power by the City Council.
In recent days, backers had begun mobilizing and felt encouraged by polls showing broad-based support for the company. Some could be seen wearing pins in support of Amazon. But those efforts did not sway many critics, who opposed the company for its anti-union practices and for the changes they feared it would bring to Queens.
(more on Amazon's NYC backout . . . )