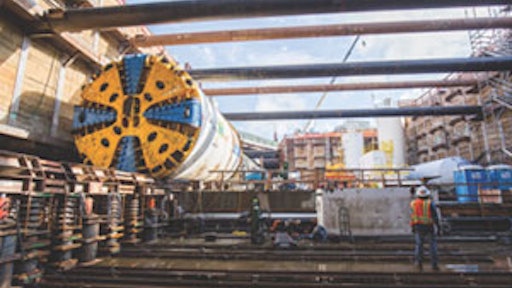 ITA Tunnelling Awards
Since 2015, the ITA Tunnelling Awards international competition seeks and rewards the most ground-breaking innovation and outstanding projects in tunneling and underground space use. This year, the Los Angeles Regional Connector Transit Project was recognized as Project of the Year in the 50 million to 500 million Euro category at the event held in Miami.
After editions in Hagerbach, Switzerland, Singapore, Paris, France, and Chuzhou, China, the fifth ITA Tunnelling Awards moved to the United States for the 2019 event. The four previous editions of the ITA Tunnelling Awards received 333 entries and 139 nominations, rewarded 41 projects and personalities and gathered almost 1,000 attendees.
The award-winning Regional Connector Transit Project comprises the design-build of a 1.9-mile underground light rail system with three new stations. The contract includes traffic control, permits, support of excavation, tunnelling, concrete works, mechanical, electrical, fire protection, rail and systems. In order to construct the twin tunnels, a single tunnel boring machine (TBM) was rebuilt from Traylor's University Link Light Rail project in Seattle. It was a Herrenknecht TBM modified to navigate the extremely tight radius curves along the alignment.
The project will extend from the Los Angeles Metro Gold Line Little Tokyo/Arts District Station to the 7th Street/Metro Center Station through downtown Los Angeles. The new metro stations to be constructed are Central, Broadway and Hope. Hope is estimated to be the deepest station in Los Angeles at 120 ft. below ground.
The project includes a connection to the existing 7th Street and Flower Station. Once completed, it will allow people to ride from Santa Monica to East Los Angeles and Azusa to Long Beach without having to change trains, while also connecting the Exposition and Blue lines directly to Union Station.
LA Metro estimates that the Regional Connector will increase ridership across the entire transportation system by 17,000 people per day and save commuters an average of 20 to 30 minutes by reducing the need to transfer to different lines.
Major challenges were encountered during the works, including unforeseen obstructions during the TBM drive and SEM construction. Armed with the support of all teams, the project overcame those challenges and turned a one-month delay into a two-month schedule acceleration.  
The overall cost of the project is estimated at $1.2 billion.
Client: Los Angeles County Metropolitan Transportation Authority (LA Metro)
Contractors: Regional Connector Constructors (J.V. Skanska-Traylor)
Stakeholders: City of LA Bureau of Engineering and Bureau of Street Lighting; ConAd; LADWP; AT&T; LADOT; Caltrans; LA County; LADBS
Engineering firm(s): WSP: Owner's designer, Hatch Mott McDonald: Design-builder's designer, Arcadis and PCC consultants: Owner's PM assistance
All 2019 ITA Tunnelling Awards Winners
Major Project of the Year (over €500M) - Tuen-Mun Chek lap Kok Link - Northern Connection Subsea Tunnel Section - Hong-Kong, China
Project of the Year (between €50M and €500M) - Regional Connector Transit Project - Los Angeles, USA
Project of the Year incl. Renovation (up to €50M) - Modernization of the Vladivostok tunnel of the Far Eastern Railway, Russia
Technical Project Innovation of the year - Toulouse Line A Underground Stations Extension, France
Technical Product/Equipment Innovation of the year -  Autonomous TBM, Malaysia
Innovative Underground Space Concept of the year - Underground Green Farming, Switzerland
Safety Initiative of the Year - Air Quality Working Group An industry-first collaboration on silica dust control, Australia
Young Tunneller of the year - Amanda Kerr, USA
Lifetime Achievement Award - Dr. Harvey Parker