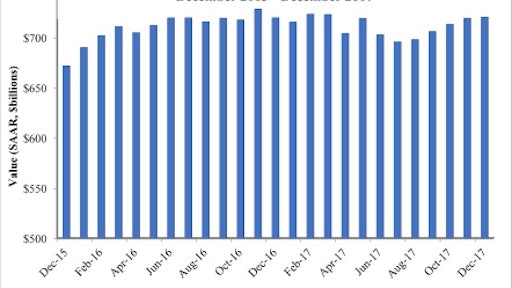 Associated Builders and Contractors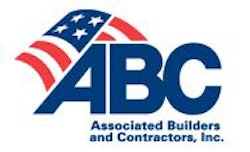 Nonresidential construction spending expanded 0.8% in December, totaling $720.4 billion on a seasonally adjusted basis, according to Associated Builders and Contractors' (ABC) analysis of U.S. Census Bureau data. This represents the fifth consecutive month during which the pace of nonresidential spending has increased.
Nonresidential spending expanded 0.1% on a year-over-year basis and sits at its highest level since March. Private nonresidential construction spending increased 1.1% for the month but is down 2.5% year over year, while public nonresidential spending increased 0.4% for the month and 4.4% for the year. Spending in the power and manufacturing categories, which are two of the largest nonresidential subsectors, contracted by a combined 10.3%, or $18.2 billion, since December 2016.

"While data releases are important for many reasons, including helping us to understand what happened in the past, their principal value lies in clarifying our shared understanding of the probable future," said ABC Chief Economist Anirban Basu. "Today's data release, which essentially confirms the existence of the ongoing construction expansion cycle, is less useful than usual. The obvious reason is that the December data reflect a pre-existing pattern of construction spending. The future is likely to represent a departure from prior trends, in large measure because of the recently passed tax reform bill.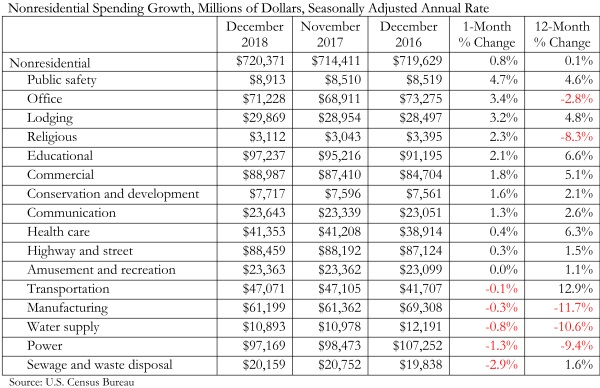 "Even before the United States enacted tax reform, global and domestic financial systems were flush with liquidity and capital," said Basu. "The tax cut will further bolster liquidity and confidence, which will ultimately translate into more construction starts and spending. If long-awaited progress is made on infrastructure spending, the construction recovery will likely transition from solid to spectacular. Note that the transportation category has already expanded 12.9% on a year-over-year basis. During much of the past three years, spending growth generally has been concentrated in a number of key private construction segments, while public construction has tended to lag.

"Of course, industry insiders are scratching their collective heads regarding how to amass enough human capital to actually deliver construction services on time and on budget," said Basu. "Frankly, that's a mystery. The implication is that any infrastructure package must be accompanied by action that helps expand apprenticeship programs, steps up investment in two-year colleges, encourages high schools to offer career and technical education, and encourages more people to leap into the U.S. labor force."