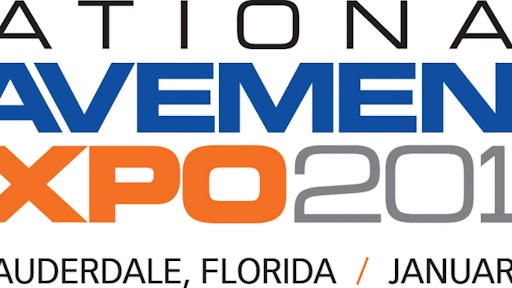 When National Pavement Expo moves to Fort Lauderdale in 2014 the location won't be the only big change.
According to Amy Schwandt, NPE show manager, NPE 2014 will offer two days of live demonstrations by NPE exhibitors. "This is something NPE exhibitors and contractors have asked for so we've moved the show to south Florida to make it happen," Schwandt said.
The 2014 NPE will be held Jan. 8-11 at the Greater Fort Lauderdale/Broward County Convention Center. "This is the first time NPE has been in Florida since 1993 so we expect a lot of interest," she said. "In fact, almost 75 percent of the 2013 exhibitors have already committed to NPE 2014."
"That's an indication not only of the exhibitor support for the Fort Lauderdale location, it's also an indication of how successful the 2013 show was in Nashville."
The demonstrations will take place right outside the convention center on a self-contained empty parking lot. "It's an ideal location -- an easy walk from seminars or the exhibit floor," she said. "Contractors won't have to worry about walking from the floor to the demonstrations and back because it's all so close."
For more information on NPE 2014 in Fort Lauderdale visit www.nationalpavementexpo.com.