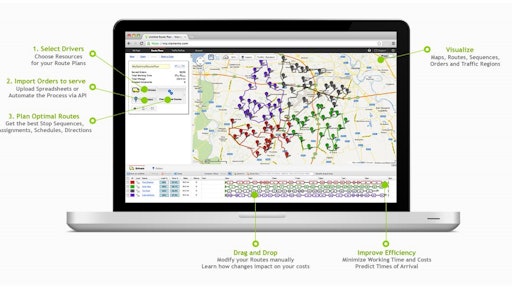 The North American Power Sweeping Association (NAPSA) recently presented a webinar about how routing and scheduling optimization software can help sweeping contractors increase their efficiency and decrease their costs. If you haven't implemented this software, take a look at these 10 tips from Riccardo Bocci, sales and support manager at Viamente, on how optimization software can improve your bottom line.
Rationalize Routes: Decrease fleet mileage and working time by inputting your order and crew information. Routing software plans routes to ensure all sequences and assignments are optimal.
Increase the Number of Orders per Resource: Maximize crew utilization and balance workloads by matching orders appropriately. Different jobs have different requirements. Time windows, service times, certain skills and equipment can vary based on each location. Consolidate those jobs for workers who know how to use more advanced equipment or may be better with cranky customers.
Improve Responsiveness to Last-minute Orders or Worker Shortages: Fit in and reschedule appointments quickly and easily by changing fleet assignments and pushing appointment times. Routing software re-calculates based on the new information you input.
Enhance Options for Appointment Times: Commit to narrower waiting-time windows for your customers, while being able to quickly answer any customer questions about late drivers or uncompleted jobs. Assign or relax constraints for orders if you know drivers can arrive at a location earlier than scheduled if the opportunity arises.
Send Information to Drivers via Multiple Platforms: As technology becomes more and more enhanced, managers are able to deliver routes directly to an existing GPS system simply by uploading coordinates. Routes can also be sent via e-mail, to a cell phone as a text message or even printed out for those drivers who still prefer to have hard copy directions in their hands.
Monitor and Correct Driver Behavior: With route software, you can easily see if a driver is leaving late, skipping their required breaks or spending too much time on any given job by checking their times and tracking truck mileage.
Give Drivers an Advantage: Do you have customers that are consistently needy? Jobs that have tight turns or special requirements? All that information can be uploaded and shared with drivers before they show up at a job. The more they know, the better they can serve your customer. Your experience with customers and orders will enhance the software.
Take Delays Out of the Equation: Routes can be scheduled to avoid high-traffic areas during rush hours, helping to avoid drivers being late to an appointment. If a delay is inevitable, drivers can contact management teams by calling in traffic roadblocks or on the job delays. In just a few minutes managers can reroute or reassign work, and email out new instructions to drivers to avoid an angry customer.
Fuel Conservation: Calculating efficient routes is just part of how routing software can improve gas mileage. With improved routes, a fewer number of sweepers may be needed to complete all your orders. Idling can be avoided when sweepers avoid high traffic areas and get to jobs when they're scheduled to complete the work. No waiting downtime for lots to clear.
Simulate Any What-if Scenarios: Make your organization leaner by simulating scenarios before implementing.  Thinking of adding a truck, changing a drop off, or scaling up without hiring new staff? Route optimization software can predict what changes like this might do to your bottom line.
APSA Members can receive a discount on the Viamente Routing Software. For more information on NAPSA, visit www.powersweeping.org.