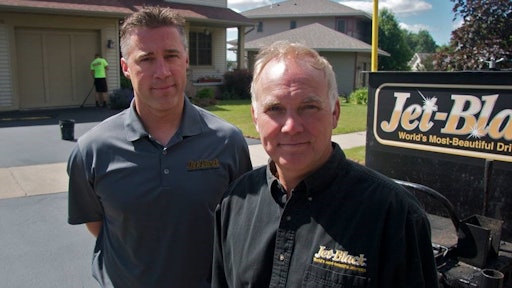 In August 1987, Doug and Andy Hoiland's parents had their driveway seal-coated. The brothers were not impressed with the results: cracks left unfilled, oil spots bleeding through, and footprints from the sealer on the sidewalk. When they found that most paving companies did sealcoating only on the side, they decided to open their own business, specializing in sealcoating. Jet-Black founder, Andy Hoiland seal-coated his first driveway in 1987 in Minneapolis, MN. The fast growth of this business led Jet-Black to begin franchising their name in 1993.
In 2012, Jet-Black bought out Black Dawg Sealcoat and Yellow Dawg Line Striping to add to their business. Today, Jet-Black has 96 franchised territories in 13 states (MN, NY, VA, WI, NJ, MI, PA, CT, OH, CO, NH, FL, NC). Collectively, they are about 85% asphalt sealcoating and repair and 15% line striping.
In 2014, Jet-Black and their 250 employees nationwide completed close to 20,000 jobs.
Why franchise?
So how did they get there? Hoiland, quickly realized that there was a void in the marketplace for a reputable sealcoating company in most U.S. markets. He believed that franchising was the best option for expansion because local owners would keep the quality of work high compared to hiring managers to run corporate owned territories.
"Starting a franchise system is difficult and expensive," Nick Kelso, CFO of Jet-Black Franchise Group says. "The first couple franchise owners were acquaintances of Hoiland's. Expansion continued in Minnesota and eventually into other states."
To market their franchise, Jet-Black stresses the advantages of joining a franchise instead of trying to go it alone.
"We provide complete initial and ongoing training, effective and cheap corporate run marketing programs, STARS business management software, group purchasing power, corporate managed websites, and online credit card payments for customers," Kelso says.  "Collectively, we have hundreds of years of experience in asphalt maintenance.  We learn from each other and there is nothing we haven't seen.  There is a true family feel to the entire system."
In order to keep quality high across the system, Kelso says franchise owners are subject to audits and onsite inspections from the corporate office. "We have very strict quality standards within our franchise system. We require our franchise owners use state-of-the-art equipment, superior application techniques and the highest quality products possible for the given geographical location. Because we have a brand name to protect, exceptional customer service is a must."
Kelso also says that franchisees can only use products provided by the corporate office or from approved vendors.
Seeing STARS
Kelso says one of the biggest advantages to joining the Jet-Black franchise is being able to access and use the STARS business management software. "The software has been custom designed for over 20 years to fit the idiosyncrasies of the asphalt maintenance industry," Kelso says. "This gives our franchise owners an advantage over competitors."
The software is a one stop shop for managing the franchise brands Kelso says.  The program is cloud based so there is no risk of losing data, which is important when connecting almost 100 locations.
"A franchise owner would use STARS to enter all customer data and to create professional proposals, invoices, follow-up letters and more," Kelso says. "It includes tools for communicating with the corporate office and other franchise owners, measuring surfaces, scheduling, route planning for crews and estimators, satellite imagery, marketing analysis, credit card processing, personalized written warranties, employee evaluation, estimator evaluation, demographic targeting for marketing, job expense calculations, weather reports, and much more. There are dozens of reports on sales, expenses, payroll, closing ratios, and much more. STARS is constantly evolving and can easily keep up with improving technology."
Jet-Black has recently been given the Pollution Prevention Award from the Governor of the State of Minnesota for their use of coal-tar free sealants and was ranked #257 out of 10,000 franchises by Entrepreneur Magazine.