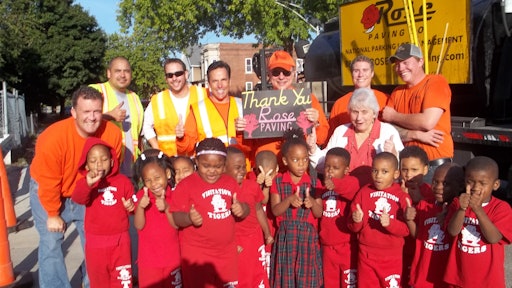 Among its charitable efforts, which include annual monetary as well as volunteer efforts, is Rose Paving Company's annual Founder's Day event, for which the Bridgeview, IL, contractor received Pavement's 2015 "Good Neighbor" Award.
Started in the late 1980s after Rose Paving President Alan Rose witnessed a similar effort by McDonalds, Rose Paving's Founders Day involves selecting an organization in need of pavement work, then the contractor's executive team members don safety vests and get the job done.
"For our first Founders Day we paved parking lots for Ronald McDonald House," Alan Rose says. "The executive team provided the labor, the company provided the equipment and some of our suppliers donated the materials."
And that's an arrangement that Rose Paving has worked successfully for more than 25 years.
The 2014 Founder's Day project involved infrared repair, sealcoating and striping at Visitation Catholic School in Chicago – with Alan Rose running the squeegee machine. Rose says than in 2014 the company donated more than $100,000 in time, materials, labor, equipment and monetary donations to 21 different organizations, which he says is a typical year for Rose Paving philanthropy.
Other "good neighbor" efforts include purchasing, preparing and serving dinner quarterly at Ronald McDonald House; Walk of Hope for The Cancer Support Center, Homewood, IL; Movember (men's health); Toys For Tots; AIM High – Centre for Companies That Care (student mentoring); Comedy Night for Rush Epilepsy Foundation; One Warm Coat (annual coat drive: and Share Your Soles (annual shoe drive) among others.
"We just think it's good to give back for a host of reasons," says Amy McGuinn-Godbey, marketing director. "It's part of our core values and contributes to our family feeling as a company."
Rose says that at the beginning of each budget year the company decides, based partly on how well the company expects to perform during that year, how much to donate that year. "We put that amount right in the budget," he says. "There's no set amount or percentage."
Rose says that the company's executive team, "all of whom have a cause or organization near and dear to their heart," discuss plans for the year. They then select about a dozen employees, including a co-chairperson from each of the company's four satellite locations, and that committee evaluates suggestions and makes recommendations.
"Basically it's the philanthropic committee that decides how to break down the money we have to spend," Rose says.
He says once the determinations are made projects often are turned over to spearhead to the person or people in the company who suggested that organization as a recipient.
Rose says the contractor has received recognition from the American Asthmatic Foundation and the University of Chicago's Harper Foundation, among others, for its "good neighbor" efforts, but he emphasizes that recognition is not what their charitable work is about.
"I have always been philanthropic minded and I obviously want to give back. That's why we do this," Rose says. "A lot of our staff and teammates are of the same mindset. It makes a lot of us feel good if paving or sealcoating fills the needs of an organization we want to support."
Rose says it's possible Rose Paving's clients might appreciate Rose Paving's charitable efforts when they visit the office and see the company's plaques and awards which are displayed in the lobby.
"It's impressive for our client base to see that. And it probably does help us indirectly with sales and in establishing relationships, that's certainly part of it," Rose says. "But that's not even close to why we do it. We feel we've all been very fortunate and have had great success through the years and we've always felt that we should give back. Luckily my three partners agree."