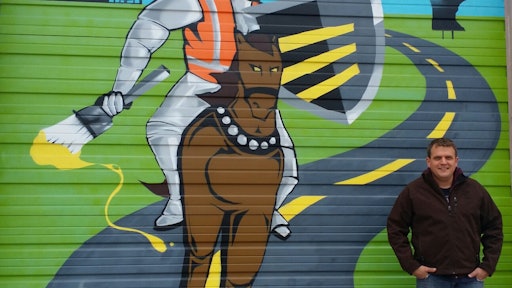 Lee Gregory went to visit a childhood friend on the east coast in 2004. Seeing how successful he was in his striping business, Gregory came back to Minneapolis and realized there was a need for this quality parking lot service in his area. 
With just a pickup truck and a used striping machine, Gregory started knocking on doors at small commercial businesses the next year. Sir Lines A Lot Striping was born. 
"I started out only doing parking lots," Gregory says. "That first season we applied roughly 100 gallons of paint." 
Just a short 10 years later, compare that to the nearly 70,000 gallons Sir Lines A Lot laid in 2014.
[A change for the better]
The incredible 10 year increase in business is due largely to the Veterans Goal requirements the state of Minnesota implemented a few years ago.
The Minnesota DOT (MnDOT) Targeted Group Business (TGB) and Veteran-owned Small Business programs are part of the MnDOT initiative to increase small business participation on state funded projects. These programs are intended to provide certified businesses with increased access to state contracting opportunities. Eligibility requirements for both programs are established by Minnesota statutes. TGBs and Veteran-owned Small businesses bidding as prime contractors may receive a preference in the bid amount, and contracts may include goals to increase participation of TGBs and Veteran-owned small businesses as subcontractors.
Gregory saw this as an opportunity. 
"Since I am a veteran and have established my company as a VET owned business, many state agencies are required to use Vet contractors," Gregory says. "Since there weren't many vet business options, we saw a need and that helped kick start us into the highway market." 
Sir Lines A Lot went from 100% parking lot striping in 2005 to 15% parking lot striping and 85% highway striping today. 
"As I grew, I was able to gradually purchase the expensive equipment needed to do highway work," Gregory says. "I have shifted towards highway projects more and more each year. I used to only cover the Twin Cities, but with the growth in our highway business, we not travel to projects all over the state of Minnesota." 
Gregory is able to employee a five member crew year-round and hires 10 more for the busy summer season. 
[The Golden Rule] 
In the competitive world of government project bids, Gregory likes to think his company is ahead of the game since they abide by The Golden Rule. 
"We treat our customers the way we would want to be treated," Gregory says. "Since I had to provide the best possible service to break into the crowded parking lot striping market when starting out, I carried that culture through to the highway portion of the business where good customer service isn't the norm in the low bidder world. You would be amazed how much work we get because we are a breath of fresh air for governments or prime contractors who are frustrated with poor customer service. We do exactly what we say we are going to do and we make any dealings people have with us a pleasant one."
His increase in business has not been without its struggles however. Extreme growth in such a short time always tends to create a challenge with finding, and keeping good help. Gregory found this to be true. 
"Finding good people willing to work long hours in the summer and take the winter off was a challenge," Gregory says. "I have a very good team now, but expanding is tough because we are very selective in who we bring on board. I consider every one on our team to be "A"-players in our industry and my thought has always been that A-players attract other A-players. It does, but it's a slow process. 
"I try and pay everyone a very livable wage so if someone decides that they would rather go somewhere else, it's not because of pay."