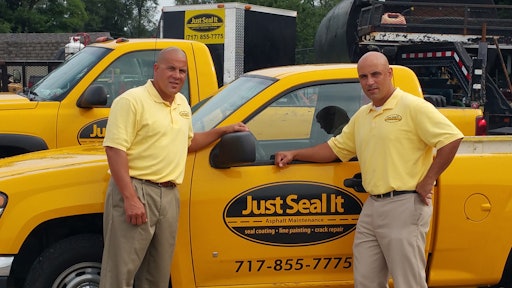 Bruce and Jason Hake are just like most entrepreneurs. They worked at 9-5 jobs as welders at Harley Davidson, but dreamed of owning their own business one day.
For 10 years, the brothers tried and failed at several different businesses while still keeping their day jobs. They decided in order to be successful, they had to go "all in."

"In 2006, with an income tax check and not much more, we set out to start Just Seal It LLC," says Bruce Hake, co-owner of the company. "We had no work lined up prior to leaving, also we had never seal-coated before, so we had to figure it out on the fly with everything riding our success. 

"It was very challenging in the beginning and we definitely learned by trial and error. At the end of our first year we received a contract to seal, crack seal, and stripe a large apartment complex, which saved our season financially."

In doing that job, the company purchased a Graco 3900 line painter to accomplish the work and, like most diversification ventures, stumbled upon starting in the pavement marking business too. 

Over the years, the company has adapted to their customer needs and now completes asphalt sealing, pavement marking, traffic signage, crack sealing/routing, parking lot car stops/speed bumps and bollard installation.

The company services Central Pennsylvania to Washington D.C., from Philadelphia to Pittsburgh. Hake says his crew of 12 completes about 50% sealcoating, 40% pavement marking and 10% crack sealing.

"We have contracts with Rite Aids and Lowes in New York, Pennsylvania and New Jersey," Hake says. "We do work from small residential driveways to runway crack sealing/pavement marking at BWI Airport." 

Their work is about 70% commercial sealcoating and 30% residential.
Sweat the Small Stuff
Hake says it's important for the success of the business for all employees to practice their manta, "perfection is the goal, excellence is the standard," ever day.

"One of our core competencies is doing the small things on a job that make or break an appearance," he says. "Case in point, we tape the edges of drive lanes in parking lots and cut in to provide straight edges on our sealing jobs. In pavement marking, we fix any lines that had variations due to un-level asphalt. Basically we train our employee's to do the work right and expect nothing less than that. Every time a crew goes out to perform work, Just Seal It's name is on the line. Our reputation as a quality contractor is very important to us."

Just Seal It continues to grow that reputation through the use of their website. 

"We discovered how to market our business on the internet through organic search engine optimization," Hake says. "We are ranked high on major search engines in a wide operation market. We also do mail outs to major commercial property managers as well as to our previous customers."

Their website also features an education center where customers can read facts about sealcoating, crack sealing and line painting, along with a section where potential customers can view photos of recent jobs. 

However, Hake says that growth in their business has been their biggest challenge. 

"It was difficult finding the right mix of employees to handle the day to day increase in work in the office and the field," Hake says. "We had to revamp our hiring process to select better candidates. We did this by being very specific to what we were looking for in our job advertising.

"In the interview process we are always very up front about the demands of working in our fast past environment. We also have to understand what each employee brings to the table in regards to talents and deficiencies to best align them with the right responsibilities to ensure their success and our success."

With the proper employees on staff moving forward, Just Seal It hopes to grow their business into more commercial property management services, as well continued growth in the airport asphalt maintenance and pavement marking sectors. 

"When the time is right we plan on entering the rubber removal business through water jetting at the airports," Hake says.

"This is now our 10th year in business and we face different challenges, but we are fortunate that hard work and determination to succeed has paid off."