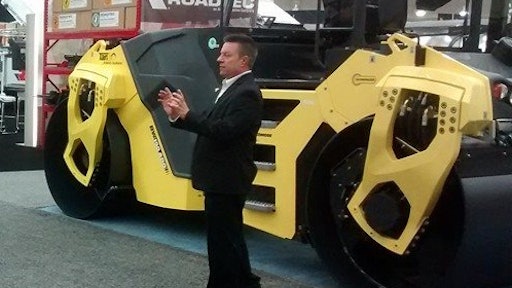 In addition to providing management insights for a broad range of business issues contractors face, National Pavement Expo is committed to introducing contractors to the newest technologies exhibitors have to offer. But along with that "commitment to introduce" comes a responsibility to make sure that technology is used properly, in the right situation and affordably for contractors.
At the NPE 2016 we went straight to the top and invited industry veteran John Hood, Director of Sales, Bomag Americas, to tackle the most important development in compaction – Intelligent Compaction often termed "IC." These new high-tech systems outfits vibratory rollers with a measurement system, computerized reporting, global positioning system (GPS) mapping and even feedback controls to the operator.
Sounds great, and it is. But is Intelligent Compaction right for you and the kind of work you do? Is the additional expense going to reap benefits for your business – either in terms of bottom line performance or job quality? There's a good chance it will -- but there's also the possibility that while this great technology is effective, it's not something you need – and it's important to know how to make that determination.
As Hood explains, "the 'intelligent' nature of rollers enables operators to monitor the compaction process in real time, making adjustments to improve density, compaction depth and even identify non-compactable areas. But while IC equipment can potentially improve the mat and even improve crew productivity, it's not a process that's needed on every job ─ and IC rollers aren't for every paving contractor."
In Hood's 90-minute session you'll learn:
The details of IC
How it can benefit a paving crew
How it can benefit clients
When IC rollers should be used on a job and when they might be overkill
"This equipment can potentially assist in providing outstanding compaction results," according to the session description. "Find out if IC rollers should be part of your paving operation."
"The Truth about Intelligent Compaction" is session A5 on Wednesday, Jan. 27 from 1:00-2:30 p.m. For more details and to register visit www.nationalpavementexpo.com.