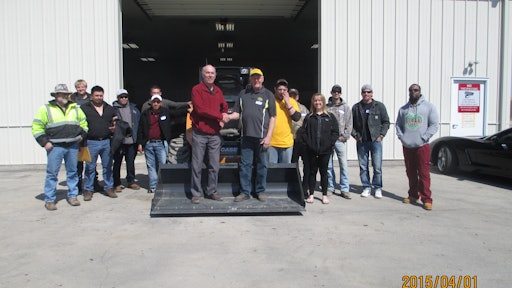 "Good workers are hard to find. We learned that the hard way by making some hiring decisions we regretted afterwards. I think everyone's made those," says Randy Larson, president of Purpose Contracting Asphalt, Franksville, WI.
So he decided to do something about it. That something, in addition to taking a hard look at his company and altering its internal hiring efforts, involved the development of an Apprenticeship Program designed to interest young people in joining the construction industry. The program, still in its infancy after only two years, offers people a specific path to a long-term and successful career – not just "a job."
Purpose Contracting Asphalt is a one-stop shop for customers from base work, stone and drainage to installation and repair of asphalt and concrete. The 18-year-old company employs 15 people and generates 75% of work from asphalt and 25% from concrete "but we're flexible enough that we can adjust that as we need to," Larson says. He says 60% of the work is residential, 40% commercial/industrial, both new construction and rehab.
Becoming the Employer of Choice
Larson says that like many contractors, he had a "wake-up call" when an employee came to work one day in a condition where he shouldn't be out on a job. That employee was fired, and the event set off a chain reaction that eventually led to creation of the Apprenticeship Program.
"The first thing we decided was that we needed to up our game a little bit," Larson says. "We want to be the employer of choice, not the employer who is bottom fishing. We want to hire professionals, guys who have pride and who take ownership, so that means we have to be a better employer."
He says being the employer of choice can mean different things to different people. Purpose Contracting offers a competitive wage and benefit package, which is where Larson says a quality employer has to start. The company also provides free uniforms. "I've had employees come to us and say they talk with people from other companies who have to buy their own uniforms. It's a simple benefit but it makes an impact."
But perhaps the most-important step they've taken is to improve their communication efforts to make the employees' job easier.
"We try to take the guesswork completely out of the equation," Larson says. "It's a labor-saving effort because when seven guys show up at a job they're not trying to figure out what they're supposed to do. Instead they show up and they know when and where to start removing asphalt."
Those communication efforts include:
Providing jobsite photos taken when doing the estimate
Identifying jobsite challenges – such as overhead lines or dead end streets – that will impact the way a crew approaches a job.
Including a Google Earth shot of the property
Revisiting the site and painting on the pavement directions such as where saw cuts are to be made or pounding stakes to mark property lines
Providing MapQuest directions for everyone who drives a vehicle. Maps are provided to the job, to the disposal site, to the closest asphalt plant, to closest gravel pit etc.
"Our communication is very, very thorough," Larson says. "Detailed instructions make their job easier so we provide them as much detail as we can, and they like that. No one ever has to call me and ask a question about those kinds of things. It's all in the file they get for the job."
Establishing a Formal Hiring Process
Purpose Contracting also instituted a formal hiring process in 2011 that has protected the contractor from hiring 10-15 people a year it otherwise might have hired.
The first step is performing background checks. "We diligently perform these checks now but previously we had not done that – we just believed what they told us," Larson says.
Purpose Contracting relies on CCAP [Wisconsin Circuit Court Access Program?] which he says is pretty thorough. In addition they rely on their insurance agent to run a check of an applicant's driving record, which the insurance agent does as part of his service to Purpose Contracting.
Purpose Contracting also requires a physical and drug and alcohol testing, each of which costs $80. All pre-employment screening general takes one day.
"The key is to make the hiring decision in advance so you're not in a situation where it's against your better judgment to hire someone but you're in a situation where you need to so you just go ahead," Larson says. "So always keep trolling so you're not making a hiring decision based out of desperation."
Apprentice Program Offers Career Path
Larson says he's worked on his apprentice program approach for two years, but he says he's had the idea since 2003. He spent the years researching the idea and trying to figure out how he can make it work. He studied an apprentice program for plumbers and masons run by Associated Builders & Contractors and he adapted "bits and pieces" from there. Then he added elements that are specific to the paving and pavement maintenance industry. By fall 2014 he was ready to give it a try.
There are four elements to Purpose Contracting's Apprenticeship Program: Safety, Laboring, Heavy Equipment Operator, CDL Truck Driving and Management Growth.
"One of the things I wanted to accomplish was to provide a road map for people who might be interested in this industry," he says. "We want to give them a career and most often people looking for work in this industry don't see that."
"This is the first stop on the map," Larson says. "The number one thing they have to learn is safety; that's the number one rule. Then you go from there."
Larson says skilled laborers are in high demand so people who learn the skills of a laborer are starting with the basics. People learn how to shovel, rake, lute; use a sledge hammer, pickaxe and pavement saw; how to operate a plate compactor and how to use a laser transit.
Heavy Equipment Operator. Once an employee is adept in the laboring stage Purpose Contracting starts teaching them how to operate heavy equipment, including skid steer, excavator, towing trailer, tractor, paver and roller and even how to maintain equipment. They also learn how to chain down equipment (including OSHA and FHWA requirements) and how to tow a trailer.
CDL Truck Driving. The goal of this apprenticeship stage is to enable the employee to get his (or her) CDL. Training involves driving dump trucks, towing fundamentals, equipment hauling fundamentals and learning how to haul to and from hot mix plants and quarries. Larson says a company dump truck that has an automatic transmission enables those who don't know how to drive a stick shift to learn how to drive it so they can pass the CDL test and obtain their temporary CDL. "Once they have that we team them with an experienced driver who rides with them and offers basic truck driving tips," Larson says.
Those tips include:
When tying down equipment put the binders on the driver's side so the driver can see them in the mirror and can see if something is coming loose
Always get out of the truck after dumping a load to make sure the tailgate is latched. "That's probably the number one rookie mistake," he says. "We also ask them to check to make sure the taillights are visible when they're back there."
Know the height of your truck and watch signs for tolerance of bridges so you know it's safe to drive beneath them.
Management Growth. Once employees have obtained a CDL the next step is to groom them for growth into management.
"When I give someone one of the apprentice brochures they can walk themselves through the whole process," Larson says. "They can see they have a pathway because we want to give them a future. Like anyone else they need to see some growth ahead. We don't want them to think 'here's a shovel and a rake' and that's what they'll be doing for 10 years."
Larson says there's no schedule or timetable for an employee to move from one level to the next.
"It's up to them based on how they progress through the company. We don't set a timeline because people learn at different rates," he says, adding that it's the road map to a career – not the schedule – that's important.
"By giving them the road map they're not just taking on a dead-end job. We're giving them some hope and a future. It builds loyalty and builds long-term employees," Larson says. "Nobody likes to hire a new staff every spring… you want the good people to keep coming back. This idea not only promotes loyalty it promotes longevity."
Selling a Construction Career
Larson says one of the toughest parts of the program is reaching potential apprentices, so Purpose Contracting has gotten creative.
In 2014 Randy and his wife [Sandy, vice president] composed a letter and printed a brochure and sent it to 17 high schools within a 35-mile radius of the company. They sent the letter to the attention of the Guidance Department and asked guidance counselors to pass it along to the principal or shop teacher if the guidance counselor wasn't the correct person to receive it.
"We got only one response, from Union Grove High School," Larson says. "The counselor passed the letter along to the shop teacher who invited us to speak to a group of students who were going to sign up."
Larson says he was shocked when he arrived to speak and found 18 boys and two girls waiting for him. "The meeting went well," he says. "Truck driving and equipment operation garnered the most interest among the students."
At that first meeting there were 15 juniors and five seniors and the school invited Larson back this spring. Larson's hoping some of the juniors will be back – and he hopes a new group of juniors will be in attendance. And Purpose Contracting sent out a second round of letters to area schools late last year.
But Larson recognizes that once he reaches the 17-year-old he still needs to convince him (or her) to forego college, take a path different than their friends are taking, and join the construction workforce.
"Not everyone is college material, that's not news to anyone. And not all families can afford college. But maybe this person is a hands-on guy who can fix a manure spreader in the field but who's all thumbs when he sits behind a desk at a computer. This industry is a perfect opportunity for that person. All they need is a path to a career," he says.
Larson says that when he does identify a potential young employee he can now tell them that working in this industry isn't a job, it's a career with an actual path to growth and it's something to be proud of.
"There's two things I hit on when talking about this. First is the fact that working in construction is a legitimate alternative to education. I remind them that in four years their friends will have a college degree and be $100,000 in debt. In turn people who join the company will in four years already have made more than $100,000, so there's a $200,000 swing there and that's a lot of money for some people and some families.
"The other selling point is 'earn while you learn'. They get to earn money while they're learning a trade and a variety of skills," he says. "They can tell their family there's a path to management position if that's what they want and they can go home and tell people they're learning how to operate a skid steer or a laser transit. 'Having a job' becomes learning skills to become a journeyman in the construction industry. It's something to be proud of.
"The workers we hire are only as good as we train them to be, so by bringing them through the apprenticeship program, by mentoring them and teaching them and by showing them that what they learn puts them on a path to a career we're giving them something exciting and something they can be proud of," Larson says.
"We have to promote the construction industry and this is just one way for me to do my part. Everyone involved in the construction industry has to do their part."
 [sidebar]
Hiring and Developing Your Labor Force
Purpose Contracting Asphalt's President, Randy Larson, will provide the "how to" details of his hiring process and apprenticeship program at National Pavement Expo, Jan. 27-30 in Charlotte, NC. His session, scheduled for the afternoon of Jan. 27, will walk contractors through the process he uses to find, hire and develop the employees he wants in his company. He'll discuss advertising tips, resume insights, and how (and where) to conduct the all-important job interview, how he always "trolls" for new hires – and you'll learn how it's all worked. Larson will also discuss what that first day on the job should be like -- once you've made a new hire -- to make that person a long-term employee. For details visit www.nationalpavementexpo.com.