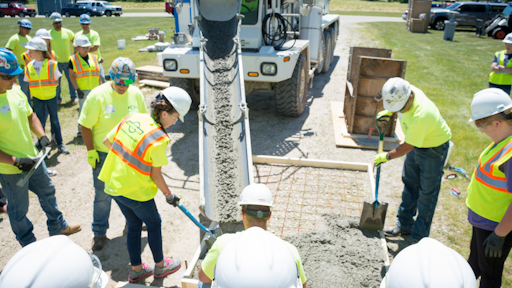 Earlier this summer Miron Construction Co., Inc., Neenah, WI, held its first "Build Like a Girl" program to help engage young girls in the community and hopefully inspire them to pursue a career in the construction industry when they get older.
Dave Walsh, Miron's vice president of leadership and organizational development, shared with us the motivation behind launching the program and the company's hopes for the program's success. 
ForConstructionPros.com: Can you provide a brief description of Miron's "Build Like a Girl" program? 
Dave Walsh: This is an educational program targeted at girls in grades 7 through 10, attempting to expose them to the skilled craft professions in construction. It is a day-long event where the girls receive hands-on experience pouring concrete, setting block, setting steel and operating equipment. 
ForConstructionPros.com: Why did Miron decide to start this program? 
Walsh: We were inspired by a story of a similar event hosted in a different part of the country. It stimulated discussion about the lack of female representation in our industry.
ForConstructionPros.com: How would you describe the success of the program?
Walsh: It was a great day. Nearly 30 girls attended, all of them participated enthusiastically and we got good feedback on the day from them.
ForConstructionPros.com: How do you see this program benefitting Miron? 
Walsh: In this day and age we have to plant seeds early with candidates for the skilled trades. That is true regardless of gender. If even on of these girls who participated ends up in the trades working for Miron, the day was a huge benefit for us. 
ForConstructionPros.com: How do you see the program benefiting the construction industry as a whole? 
Walsh: Though we hope the girls come to work for Miron in the trades, the industry as a whole benefits if they decide to work for any contractor. Additionally, I think the industry benefits from all efforts to diversify our workforce.
ForConstructionPros.com: Is this program something Miron is considering doing again? 
Walsh: Absolutely. We hope it becomes an annual event.
ForConstructionPros.com: Would you recommend other contractors hold a program similar to this? 
Walsh: We certainly would. The industry professionals who served as hosts and mentors enjoyed the day. The participants learned a lot and enjoyed it as well. It exposed a bunch of girls to a new potential career. It's hard to see a downside. 
ForConstructionPros.com: Do you have any advice/suggestions for other contractors who might want to start a similar program? 
Walsh: Spend time planning out the day to make sure it is well timed and full of activities that will be meaningful to the girls. Start small (20 to 30 participants). Spread a wide net to local schools (and enlist the school career guidance counselors to identify potential participants).