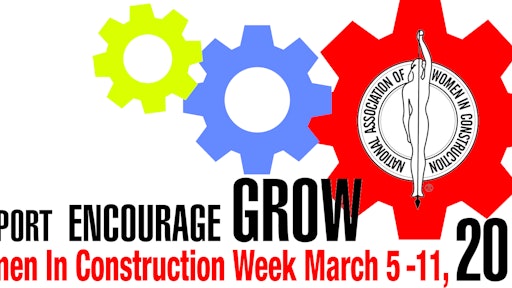 We all know women are under-respresented in the construction industry. This is unfortunate, but it is a major opportunity for both women and construction companies. For construction business owners struggling to fill a worker shortage, women is one demographic that could be a solution. With Women In Construction Week nearly upon us, maybe now is the time to pursue this new pool of workers.
What is Women In Construction Week?
Women In Construction Week (WIC) is meant to highlight women as a visible component of the construction industry, according to the National Association of Women in Construction (NAWIC). During WIC Week, NAWIC's members across the country work to raise awareness of the opportunities available for women in the construction industry as well as emphasize the growing role of women in the industry. 
This year, Women In Construction Week will take place March 5 through 11. 
"While there are more than one million women employed in the construction industry, women only comprise approximately 10% of the construction workforce," says Sandy Field, the immediate past-president of NAWIC. "These women, whether they are administrative specialists, general contractors, subcontractors, trades people, or professionals, are vital elements to the construction process. Women in Construction Week is simply a time set aside to thank those women for all their efforts toward successful construction projects. WIC Week will also bring attention to the industry and encourage others to realize that construction is a viable, profitable career field."
Miron Construction Inspires Youth to 'Build Like a Girl'
However, WIC Week is also a great time for construction companies to recruit women to its workforce. If you're looking to the future, help promote Women In Construction Week at local high schools and colleges. Contractors could also host a Women in Construction informational seminar, career day or networking event. Another idea from NAWIC is to hold a "Bring a Young Woman to Work" day where your current employees could bring a young woman to work who might be interested in the construction industry.
Women don't fit in
The construction industry has always been a male dominated field. However, the industry as a whole is evolving from what it used to be. With that, construction industry jobs are evolving, too. While many women are capable and interested in construction field work, there are more and more job opportunities for women in construction aside from a typical office job. With the continuing emergence and growth of technology in the industry, women can be a great fit for roles involving technology, engineering and supervising roles. 
Study: Discrimination, Harassment Keep Women Out of Construction
While it may not be the mindset of every construction company, the thought that women don't fit into the construction industry still exists. To help steer the industry away from that mindset, ConstructionDive suggested 10 ways to create a more inclusive environment for women in construction:
Raise awareness
Implement policies for inclusion
Ensure fair hiring practices
Host informal events to discuss employee experiences
Respect the abilities and merit of women colleagues
Don't be afraid to ask questions
Speak up when harassment or discrimination occurs (a good tip for all employees regardless of gender)
Don't let sexism become the ultimate roadblock
Create a network with other professional women
Focus on the future
Think about it. The construction industry can be an attractive workplace for women. It is in need of workers meaning jobs are available right now. Women can make more money in construction compared to some jobs. It offers unique challenges and problem solving.
If you haven't yet searched this nearly untapped pool of possible employees in your area now is the time to start. 
Have you made any efforts to help promote women in construction or to recruit more women to work at your construction company?
Share your experiences in the comments section below.
Companies in this article