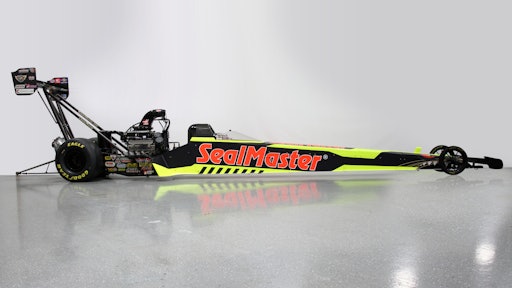 SealMaster now primary dragster sponsor in NHRA's Mello Yello
SealMaster and Kalitta Motorsports announced a major expansion of their partnership today. SealMaster, Sandusky, OH, will become the primary sponsor of the Top Fuel dragster driven by J.R. Todd for the entire 23-race NHRA Mello Yello Series season.
"After having top-notch experiences with Kalitta Motorsports, the NHRA and their fans for the past two years, we decided to take our partnership to a more prominent level in 2016," says Rick Simon, director of franchise operations. "J.R. Todd is a great driver and stand-up guy. He represented us in a SealMaster Top Fuel Dragster in Norwalk and Denver last year and the exposure our brand received for both events was quite eye-opening.
SealMaster will also have a role in the remainder of Team Kalitta's entries as it returns to sponsor Doug Kalitta's Mac Tools Top Fuel Dragster for the third season, while adding 2015 NHRA Mello Yello Funny Car Champion Del Worsham's DHL Toyota Camry Funny Car and Alexis DeJoria's Tequila Patrón XO Café Incendio Toyota Camry Funny Car to their sponsorship portfolio.
"First, I cannot thank SealMaster and all of their franchisees for stepping up in a big way and sponsoring the entire season on my car," said Todd. "Over the past two years, having SealMaster as an associate partner, I've met a lot of their franchise owners and customers and I could not be more thrilled to be the driver to represent them in NHRA action. This announcement makes me even more excited for the new season. I know we are going to take the SealMaster machine to the winner's circle many times next year."
SealMaster will also continue its partnership with the NHRA sponsoring the SealMaster Track Walk every race weekend. Fans will have the opportunity to meet Team Kalitta personalities all season as they walk the surface drivers will race on just hours before the race action. In addition, SealMaster's popular display dragster, the SealMonster, will also make several appearances on the 2016 NHRA Mello Yello Season.
Industry Appointments
At Let's Pave, Oakbrook, IL, executive managers Mike Rosen, vice president of operations, and Michael Zator, vice president of pavement management services, have joined C.B. Kuzlik, president and founder, as joint partners.
At W. R. Meadows, Hampshire, IL, Todd Duewel is regional sales manager for the Hampshire and York, PA, branches.