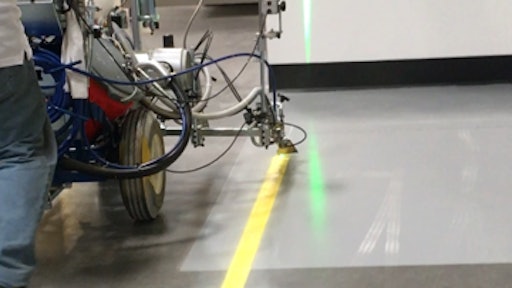 Adding a new piece of equipment or implementing technology seems to be the dominate solution when contractors are looking to increase their productivity. When it comes to striping, LineDrivers that convert walk-behind units to ride-ons have cut the cost of striping a parking lot in half.
Additional equipment in the form of lasers are continuing to help contractors improve efficiency on every job. Here's what to expect when buying and using these tools on a jobsite.
What You're Buying
Lasers are layout and striping tools that aid in layout and precision stripe accuracy. Some newer striping units have lasers installed on them, but after-market units are gaining in popularity as well.
Tom Cox, principal at We Do Lines based in Chandler, AZ, had been looking at lasers for a few years based on the buzz in the industry, but pulled the trigger on the purchase this year at National Pavement Expo in Charlotte.
Cox and his team work on three Graco LineLazer walk-behind units and have purchased one green dot laser and two long line lasers from LaserLine Manufacturing that they installed on each unit.
"Graco came out with their new LineLazer V machines and incorporated the GL-1700 green dot on the Auto Machines, along with many other great improvements," Cox says.  "At NPE, we purchased the GL-1000 Laser for long lines as well."
Lasers & Layout
If you ask most striping contractors what the least favorite part of their job is, they're likely to answer "layout." That's because traditional methods are labor intensive and time consuming using stringlines and excessive walking.
"With the lasers you no longer need to snap chalk lines, you just set the target down, line up the machine and go," Cox says.
Here's how this might work on a job:
Assume the parking lot contains 100 stalls with single rows around the perimeter and one set of double rows in the middle.
Step 1. Layout using a tape measure the stop and start marks for all 9-ft. stalls in both the single rows and double rows.
Step 2. Measure and mark the centerline. Using a laser, mark every 50 or 100 feet of centerline depending on the flatness of the pavement. If the pavement is flat, contractors can easily mark every 100 feet because the laser easily shoots that far. If the pavement goes up and down, or if there is an object in the way, markings need to be made more frequently.
Step 3. Stripe the single stalls all the way around the lot.
Step 4. With the machine backed up right to the start of the first line in the double row, line up the laser with the stop and start at each end. 
With the addition of auto layout systems, contractors no longer need to even use tape to measure and layout spaces, the machine does it for you and places a dot on the ground where the lines need to go. 
"With both the laser and auto layout system in place we save 40% to 60% of layout time," Cox says. "As we all know, the painting is the easy part, it's the layout that takes all the time.  So if you can save 40% to 60% on layout labor you are going to increase your productivity and profitability."
Precision Stripes
In addition to reducing layout time, striping with lasers will give you an extremely accurate line. Traditional pointer bars require constant adjusting for varying extrusion sizes and those bars can be easily kicked out of alignment.
"The biggest difference we enjoyed was the lack of a bar for employees to kick out of alignment," Jeremiah Chamberlain with Highway Graphics says. "Without a bar to line up, training has become easier as the trainer sees the guide in the same spot as the operator without height and angle playing any part in the equation."
"Along with getting perfectly straight lines with the GL-1000, the GL-1700 green dot is my favorite," Cox says. "There's no more guessing where to start or stop the spray with this laser. We are all good at our jobs pulling the trigger, but the green dot makes it easy for even a new striper to hit their starts and stops perfectly."
Lasers today are designed specifically for parking lot striping and are available for around $1,000. And where older lasers were only able to be used up to 12 hours on a single charge, the new models can run for 50 hours on a single battery charge.