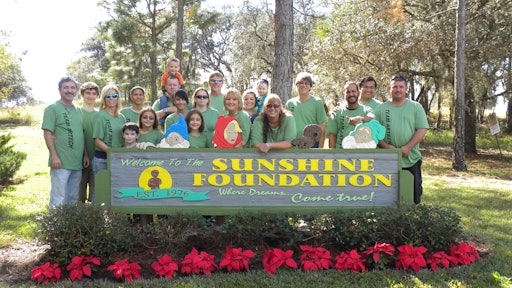 The winner of this year's Good Neighbor Award lends special meaning to "giving back." For the last four years, Asphalt Restoration Technology Systems (AR Tech), located in Orlando, FL, has dedicated personnel, funds, and materials to the Sunshine Foundation Dream Village in nearby Davenport. Each quarter, company crews, family members, and their friends volunteer a total of between 25 and 30 hours renovating structures, installing holiday decorations, and repairing roadways in the Village. In addition to doing some Christmas decorating last November, volunteers planned on installing a new walkway before year's end.
Since 1990, Sunshine Foundation Dream Village grants families one-week vacations to Orlando area theme parks and attractions. It flies children and their entire immediate families to Orlando for an all-expenses paid once-in-a-lifetime vacation.  The trip gets them a welcomed and much-needed reprieve from a routine of hospitals, therapies, and medical treatments. The foundation supplies airfare, theme park tickets, a rental vehicle, and lodging at the Dream Village, along with expense money for food and souvenirs. 
"The cause is near and dear to our owner Connie Lorenz," says daughter and company operations manager Jennifer Agravat. "My mother's family was very poor, and my grandmother had cerebral palsy. Places like Sunshine Foundation Dream Village didn't exist back then.  My mother said she couldn't think of a better way for AR Tech to give back."
Agravat notes that the Sunshine Foundation answers dreams for children up to 18 years old who are chronically ill, physically challenged, or abused. In addition to an Orlando vacation, which costs upwards of $5,000, the foundation arranges for its young dreamers to meet and greet celebrities, go on shopping sprees, or receive adaptive or therapeutic equipment. AR Tech also helps sponsor a gala to raise donations. 
Giving back doesn't stop there, either. The company annually sponsors a couple area elementary school classrooms, donating material and books. It even steps up when Mother Nature steps in. After Hurricane Irma carved a path through the middle of the state in September, the Village lost power and some of the cottages suffered roof and water damage. AR Tech employees again lent a helping hand, this time to repair roofs and pick up debris. 
There was a similar story back home, adds Agravat. "Although our company didn't suffer any damage, some of our employees' homes did and crews stepped up to help clean up the mess, so we could get back to business."
Nine Theme Cottages
Since its opening Sunshine Foundations Dream Village has welcomed more than 20,000 children, accommodating them in any of nine theme cottages. With names like Elves Cottage, Enchanted Cottage, Pirate's Cottage, Space Cottage, Windmill Cottage, they pique a child's imagination. The theme cottage that AR Tech crews helped renovate two years ago is named Keebler after the famous cracker company.
 "We did some landscaping, refloored the cottage, installed a new fridge, and did some other renovations," says Agravat. "On the project, our crews worked with volunteers from other companies, including some who miraculously took down and replaced a popcorn ceiling in a day."
The Village, which is home to children and their families while on vacation, also features a mini-golf course, an accessible heated swimming pool and playground, and outdoor picnic tables.
Connie Lorenz has been in the asphalt industry for almost 20 years and bought Asphalt Restoration Technology 10 years ago from the original owners who were based in Minnesota.  In addition to asphalt rejuvenation and maintenance, its crews are trained and equipped to offer minor concrete repair, handicap ramp installation, latex-thermal striping, speed bump installation, asphalt sealcoating and consulting, among other services.