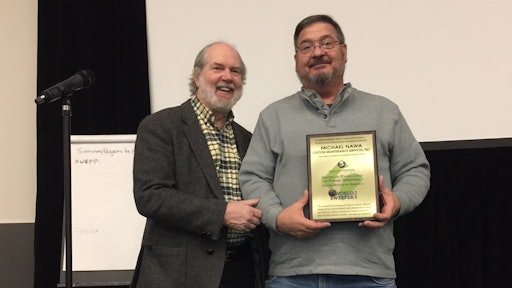 At National Pavement Exposition, held Feb. 7-10 in Nashville, WorldSweeper.com/World Sweeping Association presented its 2018 Award of Excellence in Power Sweeping to Michael Nawa, former owner of Custom Maintenance Inc. and long-time supporter of the sweeping industry.
Presented by Ranger Kidwell-Ross, WSA executive director, the award recognizes Nawa's long-time service and support of the sweeping industry. Nawa has served on Pavement Maintenance & Reconstruction's Advisory Board since 1993, guiding the growth and development of the magazine and National Pavement Expo. He has been a member of the North American Power Sweeping Association board and currently serves on the board of the World Sweeping Association, where he is also Founding Member.
The wording on the award reads as follows:
The winner of this year's WorldSweeper.com / World Sweeping Association Award of Excellence in Power Sweeping graduated from high school in 1975. Having no desire to go to college, a year later – armed with about $5000 in capital from his father – he founded a fledgling company with the intent of providing landscaping services to his local business community.
In 1978, Nawa purchased his first sweeper, a used Schwarze Mini-American model. He initially purchased the Mini-American in order to clean up grass from his landscaping operation, but the purchase came with two small shopping center accounts.
In the intervening four decades, Nawa grew his business into one of the largest operations in his Pennsylvania marketing area. He credits his success with being a good salesperson, as well as from taking care of his customers very well. "You can always hire a good manager but you won't have any accounts if you can't sell and then service them,"Nawa says.

In September of 2017 Nawa sold his company, today called Custom Maintenance, after 40 years of being in the sweeping, landscaping and exterior maintenance business.