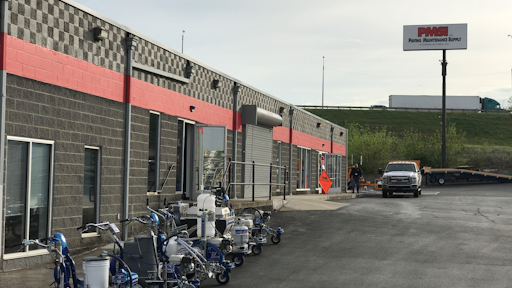 Crafco Adds STAR Licensing to Oklahoma location
Crafco Inc., Chandler, AZ, and its Paving Maintenance Supply Division have entered into an additional technology licensing agreement with STAR Inc., Columbus, OH, to utilize STAR's sealcoat technology at Crafco's plant in Edmond, OK.
"Crafco is very excited about adding our Edmond plant to the STAR family of sealcoat facilities," said Don Brooks, president of Crafco. "We are looking forward to working with all other STAR companies to grow the STAR brand name in the marketplace."
The Edmond plant – which serves Oklahoma, south central and western Kansas, and northern Texas – also operates a full-service store for pavement professionals. In addition to the Edmond plant, Crafco's Evansville, IN, location has also been operating under STAR's technology and license support since 2013. Crafco will now be able to supply STAR sealcoat products from its nine locations in Oklahoma, Texas, Kansas, Missouri, Indiana, and Tennessee, as well as bulk sealcoat customers in those regions.
"I welcome your Edmond plant as the newest member of our STAR family, said Girish Dubey, STAR president. "I am sure that our association will be mutually rewarding and help forge ahead our prestigious position in the industry."
Sweeping Corp. of America Acquires 2 Companies
SCA Sweeping Corporation of America (SCA), Cleveland, OH, has acquired USA Services of Florida Inc., Longwood, FL, and Hy-Tech Property Services Inc., Midlothian, VA.
Christopher Valerian, SCA president and CEO, said that with these transactions SCA now has 835 employees in 34 locations throughout the eastern-half of the United States.
"These transactions continue our strategy of contiguous growth by acquiring well-established, best-in-class businesses," Valerian said. "USA and Hy-Tech have been leaders in their respective markets for over 30 years and we look forward to continuing their traditions of excellence."
Founded in 1989 as a family-owned business, USA Services of Florida
has grown into one of the largest street sweeping providers in the southeast United States sweeping over 400,000 miles of roads annually.
USA Services of Florida's owners Michael Latanza, Carmine Latanza and Eric Seidelman will continue with SCA as shareholders. Michael Latanza joins SCA's senior management team as regional vice president and will continue to run the Florida operations.
"This combination allows us to continue our growth while providing greater resources to our employees and customers. SCA's field-driven approach matches well with USA's culture," Michael Latanza said.
Hy-Tech, Richmond, VA, was founded in 1985 by Marc Chimento with one converted sweeper truck. Today Hy-Tech Property Services serves hundreds of properties, performs highway sweeping for state DOTs and provides municipal sweeping throughout the eastern seaboard from Washington D.C. to Charleston, SC.
Jarrett Turner, managing partner of Soundcore Capital Partners, said SCA has completed nine acquisitions during the past year and plans to continue its growth in both existing and new markets.
Included in the two most recent acquisitions are seven locations in Florida (Orlando, Tampa, Jacksonville, Daytona Beach, Cocoa, Fort Myers and Tavares), as well as locations in Richmond, Lorton (Metro DC) and Yorktown Virginia, Raleigh and Wilmington North Carolina, Charleston South Carolina.
"These additions will allow SCA to better serve their customers across a broader geography," Turner said.
For more information on SCA, visit www.sweepingcorp.com.
Industry Appointments
At Bergkamp Inc., Salina, KS, Stacy Johnson and Dale Sisneros are territory managers for the Government Business Unit.... At Volvo Construction Equipment, Stephanie McCall is vice president key accounts.