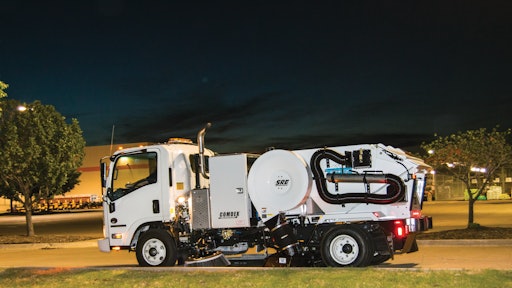 One of the best security factors that our industry can point to is the extremely low national unemployment rate, which ostensibly translates into more people working at day jobs to earn an honest living.
This means there are fewer persons out looking to rob your driver in the middle of the night for spare change. Violent crime statistics are at an all-time low, but we still need to be mindful when operating at night, for all the obvious safety and security reasons.

Here are 10 tips to help prevent incidents:
1.     Survey the areas to be worked in the daylight. Map out any potential hazards or safety and security issues – i.e. concealed areas, vegetation, homeless encampments, poor or no street or area lighting, entrance and egress issues to the work area etc. Look for overhead lines, signs, overhead structures, canopies, awnings, etc. At night these issues can be more troublesome. Inform your drivers or protect or warn of the hazard with signage, barricade or other methods.
2.      Rely on lights and cameras. The truck needs to stick out like a sparkler; make it intimidating to even look at! Strobes, LEDs, 4-way flashers, moveable spot lighting – the more the merrier! Cameras facing forward and rear on a closed loop recording are great. Even better are cameras that transmit wirelessly to a remote monitor so a supervisor can see what's happening as well as the driver. Aftermarket cameras are absurdly inexpensive, so there is no excuse not to have them. Let the public know you're using cameras by putting stickers all over the truck:  Cameras are recording all activity. And don't forget to use DOT red-and-white conspicuity tape all over the vehicle.
3.      Maintain all glass and mirrors. Be sure all glass, mirrors, light lenses and other "visual systems" are spotless. If you have tinted windows (common in some areas such as South Florida), you need to be making some changes in vehicle selection. Dirty glasses and mirrors = reduced visibility.

4.      Determine if there is any history of criminal activity in the area. Configure the job for the best and safest time, such as when the lot is empty and foot traffic is low. If possible close the lot entirely to vehicles and pedestrians. Work the lot at the best time considering all issues.
5.      Post "Driver Carries No Cash" decals. Heavy use of this message on all sides of the sweeper removes the incentive for random crime of opportunity.
6.      Work in Tandem. While not always possible, safety is enhanced when two people are in the cab or another sweeper is working the same area. If two operators are not feasible at least have a shadow vehicle in the area. In extreme cases, consider hiring security – off-duty police officers, for example.
7.      Post notices on the property and the sweeper. Signage and decals such as "Premises and vehicle under video surveillance" or other similar language can deter crime. Also post notices if the property has a security service or if it's patrolled by local police. Also, the vehicle should have prominent warning signage/decals to keep the public away from the unit. Consider decals such as "Stay well away, danger" or "Rotating equipment," "Pinch points," or "Remote operating machinery" etc.Work areas and parking lot entrances should have temporary signage such as "Sweeping operations in progress. Do not enter." (Highway work by MUTCD code needs signage and/or a shadow vehicle with arrow board or message board.)
8.      Drivers should avoid getting out of the cab. Instruct drivers to remain in the cab as much as possible, even at dumping points. This and other locations such as water fill-ups should be well-lit and in supervised or high-traffic areas.
Note: All employees should be wearing high-visibility apparel -- vests and even pants at night, depending on the exposure. (All highway work should require full body high-visibility clothing at night or when working in low or impaired lighting.)
9.      Reduce the need to back up the sweeper. As a general safety practice, configure all work as much as possible to eliminate the need for backing up. This can be even more dangerous at night when visibility can be more difficult. Equip all sweepers with back-up alarms, and train all operators in defensive backing practices.Rear-facing cameras = bonus points!

10.  Lock the cab securely. This protects the operator inside the cab and protects the unit from theft or damage should the operator need to exit the cab. In extreme cases install security grills on the door windows.
Summary
Doing nothing is not an option -- plus it may leave you vulnerable to all kinds of civil and regulatory penalties. Remember that your driver falls under OSHA occupational safety regulations but the criminal and security elements may fall under Common Tort Law and General Liability.  This means you should have proof of efforts to avoid, prevent, control, and eliminate hazards to your operator.
In other words, those cameras can go a long way to prove your driver was acting responsibly in an incident.
John J. Meola, CSP, ARM is the Safety Director for Pillar, Inc., Richmond, VA. He is a consultant and safety trainer to private industry, a regular presenter at National Pavement Expo, and works with the World Sweeping Association. Reach him at JMeola@pillaroma.com