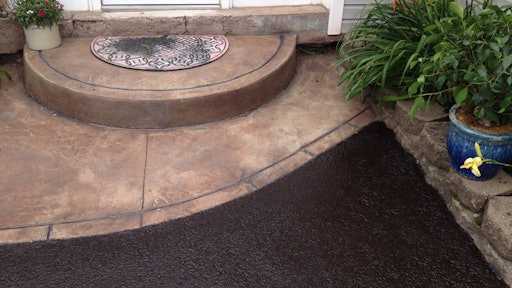 John Tranello and partner Mark Bianchi worked for an area pavement maintenance company 15 years prior to starting Varsity Sealcoating three years ago. Now, for six months out of the year, their Rochester, NY-based company seals 15 to 20 driveways a day, seven days a week. Approximately 90 percent of Varsity Sealcoating's work is residential, although the company also gets calls for consulting on or sealing commercial projects.
The 1,500-square-foot driveway sealing job for which they receive the 2019 Pavement Seal & Stripe: Small Job Award is typical of the work they do. Before sealing, they trim back the grass around the drive, expose and clean the pavement with a high-powered wheeled blower, remove any oil spots with Dawn dish soap (a trick learned from experience), and fill in any cracks that need filling (at least 1/4 inch in depth).  
"We're a bit old fashioned," Tranello says. "Once the drive is ready to be sealed, we apply the material by hand with a 4-foot horsehair broom. I start at the top of the drive, cutting in and around pavers and stones and then push it down. Mark applies the finishing touch behind me, flattening out the high spots and filling in the low areas."
This was a newly paved driveway and Tranello says the binder was very loose and in desperate need of sealing. "We gave special attention to sealing around expensive hardscaped elements that bordered the drive, including pavers and the sidewalk. Our company is small, but we pride ourselves in doing the very best work, and that implies keeping the sealant where it belongs, on the driveway."
Pet Peeves
Tranello has more than a few pet peeves. "When I've finished a job, I want customers to notice nothing but their sealed driveway – no sealer on the grass, no evidence that we were even on their site," he says. "When we seal, Mark and I stand in the sealer with our cleats on instead of wearing regular shoes. The cleats displace less material and eliminate footprints. It also drives me crazy to see a nice sealing job and then have walkways and entranceways covered with dirt and grass clippings. What does it take to blow them off?  Not much."
"Little things count," he says. "After customers call for a quote, I pull up a satellite image of their property on my computer. Instead of taking time to go to their home to measure their drive, I can give them a quote right over the phone. The quick response usually impresses them and often helps sell the job."
Satellite quotes also have another purpose; they save not only time but fuel for company owners who try to be environmentally sensitive. Online advertising versus using print media for the company also gives a nod toward saving another precious resource, trees.
The day before a job is scheduled, customers receive either a call or text reminding them of the appointment and providing an approximate time when the crew will arrive.
"We pull up to the site in 3500 GMC truck with a custom bed and 550-gallon tank," Tranello says. "For material, we use Neyra, a coal-tar sealant and mix in three to five pounds of sand per gallon, along with an additive to suspend the sand."
He advises customers to seal their drives every couple years, especially in a city like Rochester where the asphalt is under attack every winter by 3,-pound snowplows and freeze/thaw conditions.
Sealcoating to Snow and Back
"Mark and I have worked together so long, we're very efficient and can seal an average 1,500-square-foot drive in 20 minutes. It's a quick cycle, but one that needs to be quick and not just for getting to the next job. When the temperature reaches 90 degrees, material evaporates very quickly and will flash and streak if not worked in."
Winters offer a change of pace for the partners who run a separate operation plowing and salting drives and parking lots. They still work as a team, though. Bianchi does the plowing and Tranello follows up with the salting.
After the long Central New York winter has left the scene, they're more than ready to brave the hot summers and long days ahead and replace the plow with a horsehair brush and substitute sealant for salt.  
Based in Madison, WI, Rod Dickens is a freelance writer specializing in the construction industry.