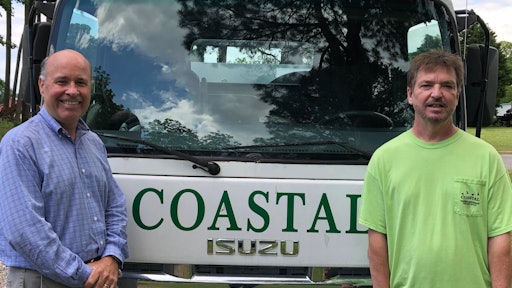 Coastal Power Sweeping owner Ron Rose comes at parking lot sweeping from a unique perspective: he owns Moyock Commons, an 18,000-sq.-ft. shopping center on a 2-acre lot with six tenants. So Rose understands sweeping from the property manager's point of view and the sweeping contractor's point of view.
"I was trying to make a sale and one property manager told me he has a lot of vacancies so he's trying to keep expenses down. I understand that," Rose says. "At the same time, as a property owner you want the tenants you do have to be happy and prospective tenants to see that you're taking care of the property."
Rose owned Moyock Commons, Moyock, NC, for two years before he got fed up with the hand-picking service a local landscape contractor was providing.
"I had no idea what parking lot sweeping was, I was just dissatisfied with the service I was getting," he says. "I'd seen street sweepers, of course, but I had no idea about parking lot sweeping or that parking lot sweepers even existed."
Until he bought his first used sweeper. As it turns out, on his way to work each day he passed a Schwarze 347 Lite sweeper parked in a yard. Eventually he realized it was just sitting there. So he stopped and the owner, who had a second sweeper he was running, agreed to sell the 347 Lite to him.
"I spent too much money refurbishing it but once it was running I'd get up every morning and sweep my parking lot. I looked forward to it," Rose says.
Soon the Food Lion on the adjacent property asked if he could sweep their lot, and Rose was in the sweeping business. Slowly work came his way and he hired an operator who worked three days while Rose swept four. A few years later he bought the business from the person who sold him that first used sweeper. Coastal Power Sweeping now runs three trucks with four operators sweeping 20 regular accounts. In addition to parking lot sweeping the company offers porter services, blowing of sidewalks, hand-picking of grassy areas, lighting inspection, and they empty and re-line trash cans.
Then he joined World Sweeping Association.
"I joined WSA because I realized there was material on the site that is available only to members.  I thought what I learned from that site would help me become more professional and help me be viewed as a more professional. So I joined and I signed the Code of Ethics, which I think says something to my customers. It's helped set me apart from my competition."
Success with Third-party Providers
Rose says about 20% of Coast Power Sweeping's business comes through four third-party providers, and he says he's had pretty good success working with them. He says he makes sure Coastal Power Sweeping is on the vendor list for third-party providers because there are numerous properties he wouldn't have a chance at if he wasn't on the vendor list.
"Working with third-party providers does add a little extra management, and they are slow to pay, but the extra work is not that significant and we have a good enough cash flow that we can wait on their payments," Rose says.
 "I know they're tight on pricing and I understand that because they have to make money in the middle," he says. "But we're okay with working with them. Our drivers have adjusted well to the requirements some providers demand so that hasn't been an issue."
He says in most cases he is asked for bid and his bid is accepted. "Sometimes they say they can't pay that much and they tell me what they can pay. Often I do have to think about it but I often do it for their price. I want to keep my guys busy and while I might be making less per job I don't want to lose customers."
Fighting Pricing
He says there is quite a bit of competition in his market, adding that a number of competitors are undercutting the market, selling their sweeping services cheaply and not providing quality work.
"That's tough to fight," he says. "A lot of property managers aren't on site so they're not the ones who get the complaints from the public or tenants. They view sweeping only as an expense so all they look at is the price.
"I try to explain that we're doing it better, that we're a professional organization, that we spend more time on their site," he says. "We ask them to give us a chance to show how different we are and why we can justify our rate. Sometimes it helps and sometimes it doesn't. If all they're looking for is price there's not much we can do about that."
He says most higher-end properties have a different view of sweeping. "They realize how important it is to the public and to their tenants to have a nice clean parking lot. But not everyone looks at it that way."
Rose says he costs out each job and adds his profit to determine the bid.
"I try to be as competitive as we can and I'll adjust the bid by a dollar or two if need be to make the price look better or to be more competitive," he says. "I try to look at it now from the position of an owner or property manager. I want their properties to look like mine does and I think most other property managers want the same thing. That's what we try to provide."