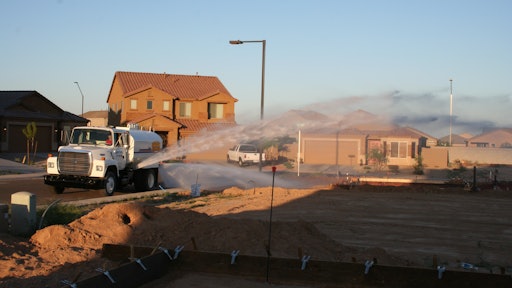 "It's nice to be on a winning team," says Scott Duscher, new president of the North American Power Sweeping Association (NAPSA). "In years past NAPSA was working on stuff but nobody could see it. Now they can see it and people are really excited about it and proud of it. The board is fired up and active."
Duscher, owner with wife Louise of Agua Trucks, Wickenburg, AZ, assumed the NAPSA presidency at the 2019 National Pavement Expo in Nashville, succeeding Pete Phillips of Clean Sweep, Chattanooga, TN. He says he's become president at a time when all the "heavy lifting" has been done and he plans on helping the association take advantage of years of hard work to benefit NAPSA – and the sweeping industry.
"NAPSA is setting the standard for the sweeping industry by offering certification training. This is powerful training that we can market to sweepers and even to the sweeper customers," Duscher says. "We're going to market to the customer that these people who are certified are the industry standard and who you should be hiring."
Duscher credits NAPSA members and the previous NAPSA presidents with getting committees established and producing the results they have, and one of his goals for his term is to get all those committees better connected.
"My predecessors did a great job of getting all these efforts up and running and producing. We have committees for Certified Sweeping Contractor, CSO-Parking Lot, CSO-Construction, marketing, education and more and each one is running on its own. This year we want to get all those tracks to merge," he says.
"Early on the committees were doing all the big work," he says. "These are all huge programs and it takes a lot of time to pull them together and get them off the ground. But the heavy lifting has been done and we're in the fine-tuning stage to bring it all together as one."
A Wet Start to Sweeping
Duscher comes to his two-year term as NAPSA president from a background working for a homebuilder when pre-Recession Maricopa County, AZ, was in the midst of a residential construction boom. The county had air quality concerns so contractors on construction sites were required to keep the dust down.
"The market was building so fast that utilities couldn't keep up with construction and buildings were going up before the water was hooked up," he says. "It requires about 1,000 gallons of water to build a house, so we needed to find a way to get water out to construction sites."
The logical solution was wetting the dirt using a water truck, and Duscher's company hired a vendor. By 2006 the construction market had started to fade, and Duscher suggested the company buy its own water truck and provide that service in-house. "They didn't want to get involved in that kind of business so I asked if I could buy one and work for the company and they said yes," he says.
So Duscher and his wife, Louise, bought their first water tank and Louise operated it. That first water truck led to the formation of Agua Trucks, Wickenburg, AZ, and, eventually, Duscher's entry into the sweeping industry.
"It wasn't long before I started to realize sweeping and water trucks went hand in hand," Duscher says. "When it would rain the construction sites would be a mess and they wouldn't use my water tanks -- but there would be a sweeper on the site, and I realized the two worked together. When the water trucks were working the sweepers weren't and when the sweepers were working the water trucks weren't."
By 2008 he and Louise had bought their first construction sweeper to support three water trucks. Duscher says his construction sweeping and dust control grew because Agua Trucks got in the door of the home building market as the market started to grow.
"And we grew right along with it. Contractors saw us on a site, and they'd call us and the more we were on construction sites the more people saw us and the more calls we got, and it just started to snowball," he says. "Coming from the home building side we knew what services to give them and what they needed and they liked that. Anything that's a pain point for the home builders is what we want to know about so we can handle it for them and they like that."
Duscher says that water trucks are used primarily to control dust, and because the Phoenix economy is on the upswing Agua Trucks is busy in the construction market. But his trucks are also used for commercials, for carnival dunk tanks, and they were even hired to wet a highway road ahead of the space shuttle as it was moved along it.
"Our water trucks are in high demand, as is the skill needed to operate them," Duscher says. "If you don't do it right it makes a bigger mess all over the jobsite. You don't want to leave mud on the street, and you have to know what should get wet and what shouldn't get wet. We were in construction, so we know. That's important for contractors."
Parking Lot Sweeping Leads to NAPSA
As with many contractors, Duscher expanded his business based on a customer request.
"We were working on a large commercial construction site with water trucks and sweepers and when the project was done they asked us to clean the property and we did. Then they asked if we wanted to bid on maintaining the parking lot and we did and won the bid -- but we didn't have a parking lot sweeper."
They found a used sweeper from Ray Confer, C & J Parking Lot Sweeping in Warren, MI, and Duscher flew to Michigan to pick it up.
"When I got there I asked him how to sweep a parking lot and what all was involved in that and he spent the better part of a day explaining parking lot sweeping to me," Duscher says, adding that Confer told him he should attend National Pavement Expo. "He had a lot of trucks and a nice operation so I figured if he was doing that well we should listen to him."
Duscher attended his first NPE in 2009 and Confer introduced him to other sweeping contractors, many of whom were NAPSA members.
 NAPSA as a Place to Start Learning
 "There's a big learning curve when you start a business because you don't know anything about it," Duscher says. "When we started there was no place to learn anything. Where do we get the water? What parts are likely to break down more often? How do we to train drivers?
"That's where getting involved in NAPSA and getting to know other NAPSA members has been so helpful. NAPSA is where you can get that information," Duscher says. "When you talk to NAPSA members they'll tell you 'This is what we do. Here's how to solve that problem.' Being a NAPSA member has just been huge for my business."
Duscher says that as soon as he realized the impact NAPSA had on his business and the potential it has to help other contractors, he wanted in. He joined in 2011 and was named to the NAPSA board in 2014.
"I realized the guys who were involved and the guys who are successful were one in the same. So when I got the opportunity and was invited to join the board I just said let's do it," he says. "I'm not the guy who sits in the back of the room; I walk in and sit in the front row. I want to be in the parade, not watching the parade. It was an honor to be asked by these people."
Duscher started contributing to NAPSA working on safety posters, but it wasn't long before he became involved in the three-year process to bring the Certified Sweeper Operator (CSO) training to NAPSA members.
"Man, was I interested in that! I wanted the knowledge that training would provide for my own people and I wanted to share the knowledge we have," he says. "When it got to the point where there was a committee formed for that I was in, and for the last three years I've been extremely involved in that."
NAPSA launched CSO-Parking Lot training at NPE 2018 and CSO-Construction at NPE 2019. Duscher says plans are underway to launch an updated CSO-Construction 2.0 at NPE 2020 and NAPSA is also developing a CSO-Municipal track.
Duscher was also one of a group of NAPSA members who made the trek to Washington D.C. last year to support the Snow & Ice Management Association's lawsuit protection bill. He says a third of the 70 people attending were NAPSA members and NAPSA expected to have more members attending when the group visited Washington again in August. 
Getting the Most out of NAPSA
 "It's definitely a new era for NAPSA," Duscher says. "Look at all the knowledge that we have assembled to get to our membership. So much work has been going on in the background, but nobody could really see it. Now they can. The benefits NAPSA can offer now are tangible and huge. What we now can make available to our membership is just amazing."
Duscher also says that that many of the benefits of joining NAPSA are intangible.
"But you've got to be involved, and that doesn't mean just showing up at events and attending seminars. It's not a toe-in-the-water thing. You need to get involved to get the most out of it," he says. "Involvement can yield tremendous rewards.
"Meeting other contractors who do what you do, visiting other company's shops, making friends with others in the industry, networking. It's not unusual for people on a vacation to visit another contractor, just to see how they are set up and to see how they schedule and how their operation runs. But the guys who aren't involved will never experience that. I can't tell you how much I've learned from talking with and visiting other sweepers.
"That's especially true for the new guys, the people who have one or two trucks but are just sitting back. The bigger, established guys are more than happy to help them out and answer their questions, but you have to be involved to meet and get to know those people. I don't know what value you can put on that but get involved and you'll reap the reward."