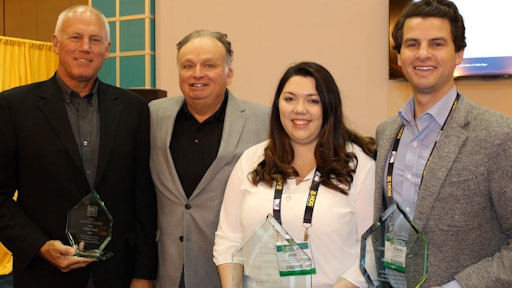 Three exhibitors at ATSSA's 50th Annual Convention & Traffic Expo, Jan. 24-28 in New Orleans, received Innovation Awards in recognition of new products that contribute to the industry's mission of advancing roadway safety.
The products, introduced in 2019, were evaluated by a panel of Department of Transportation judges who voted on them from among 20 products selected for the Traffic Expo's New Products Rollout.
The award-winning products from Royal Innovative Solutions, Pi Variables and Ver-Mac were chosen based on the criteria of lifesaving qualities, degree of need, innovation, design and eligibility under the Highway Safety Improvement Program. Company representatives had the opportunity to talk about their products during ATSSA's Circle of Innovation event.
Details on the 2019 ATSSA Innovation Award winners are:
First Place was awarded to Royal Innovative Solutions, Coopersburg, PA, for its Virtual Reality Training interactive programs that simulate real-life scenarios such as retrieving cones from the roadway with traffic passing at low to high speeds.
Online: Royalinnovativesolutions.com
Second Place was awarded to Pi Variables, Tustin, CA, for its AIMS product, a small electronic device that attaches to any attenuator and, upon impact, sends a text message and email to predefined personnel.
Online: Pi-lit.com
Third Place was awarded to Ver-Mac, Quebec, Canada, for its Smart Arrow Board/Work Zone Location Sensor System, which is designed to inform government agencies and the motoring public they are entering a work zone.
"We look forward to the New Product Rollout each year to see the latest ideas for improving roadway safety," said Eric Perry, ATSSA's director of innovation & technical services. "These three products clearly stood out to the judges as exceptional ideas."