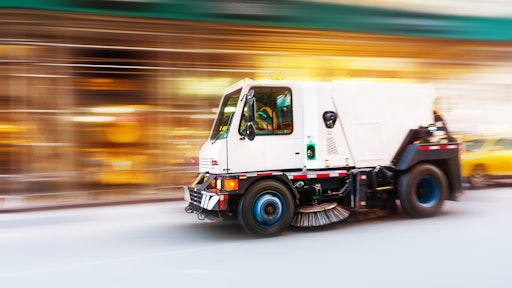 THEPALMER / iStock / Getty Images Plus
In this unprecedented, potentially dangerous time when so many businesses and industries are shut down, the paving and pavement maintenance industry is still on the job. Anecdotal research (we've made a lot of contacts) indicates that as of mid-April most – not all but most – contractors are getting the job done.
And why not? Work in the field is not only conducive to social distancing, it's almost a requirement of the job. Pavers, sealcoaters and stripers alike generally are quite a bit farther apart than 6 ft., and in those instances where they need to work more closely, that 6-ft. distance is still workable. Sweeper operators are flying solo (virtually no difference for them), many sweepers report an increased number of sweeps, and some have added some type of cleaning, such as power washing carts, to their operation.
So, many paving and pavement maintenance workers remain employed. They're getting paid and cash is still flowing into the business. Most in this industry aren't trying to figure out how to make their next mortgage payment or equipment payment. They're not having to rely on unemployment insurance to stay afloat – essentially contractors are one of the engines that is keeping the economy chugging along until it can pick back up.
And make no mistake, this pandemic will end, health and peace of mind will return for friends, families and businesses alike. But until then, let's not take this work or the jobs in this industry for granted. Continue social distancing; have workers drive separately to jobsites to reduce contact; reach out to prospects via video, phone and email; encourage (and don't penalize) employees for taking time off when feeling ill or when they need to for family reasons; and don't forget those who are less fortunate, those who can't work, who no longer have a steady income, who might not have a job to go back to. Be thankful and help where you can. Remember, we're the lucky ones.