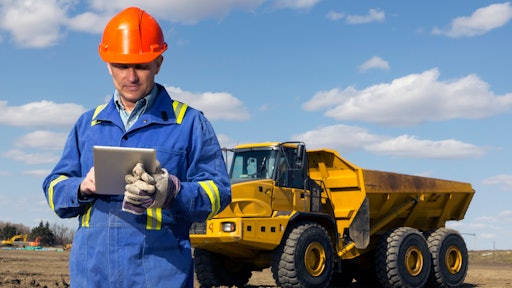 iStock
The sudden onset of COVID-19 hit the world like a ton of bricks, bringing industry after industry to a screeching halt. The construction industry is being affected as well, but the outlook for 2020 still has promise.
Before the virus hit, construction had been enjoying a strong upward trajectory, with many builders booked months and even years in advance. While the health crisis the country faces today is a serious one, by most estimates, it's expected to be short-term, as opposed to the housing crisis of 2008, which devastated the sector for years.
So how can the construction industry mitigate damage and stay steady until this public health crisis passes and the economy returns to solid ground? It starts by understanding what can be done to protect employees, jobsites and clients from this crisis, and then quickly implementing the options that make the most sense.
Here are four actionable ways technology can help the construction industry contend with COVID-19:
Screening COVID-19 symptoms at clock in/out
Safety managers need fast, timely access to health data in order to monitor whether employees are experiencing any symptoms of the coronavirus. If and when employees do report symptoms, supervisors can immediately remove and separate the employee from their co-workers. If supervisors are uncertain or managing multiple jobsites, both the safety manager and supervisor can automatically receive the health screening in real time and immediately assess the situation and decide if an employee needs to be removed from the jobsite and separated from their co-workers.
This is where an integrated real-time resource management app comes in. With an integrated resource management app, construction businesses can prompt employees to complete health screening forms on clock in and/or clock out and receive the information instantly. These health screening forms can also be automatically emailed upon completion to all stakeholders or all the forms can be viewed on a web browser upon submission.
Read next: Basic Health and Safety Workplace Expectations for Construction Employers

As employees enter their time and their health data when work begins and ends, supervisors can effectively confirm the health and well-being of each crew on every shift and at every site, and determine if certain workers should report to the next shift or not. These mobile forms can also include COVID-19 training videos, reminders for employees to take temperatures, use masks and sanitize equipment, to name a few.
Enabling remote information collection and sharing
Companies who rely solely on sharing information on paper or in person are struggling to deal with sudden changes to how and where employees are working. With many construction business offices shifted to employee's homes, field supervisors that normally dropped off timesheets, daily progress and safety reports, can no longer do so.
Prior to COVID-19 there were existing time lag issues getting the field data to the business office, and it's even worse now because they don't have a central business office to deliver the field data to –– this is why now is the perfect time to update data collection methods and sharpen the office's digital toolbox. By implementing real-time resource management solutions such as cloud-based labor tracking, field reporting, project tracking and system integration, managers ensure that key business functions needed to keep the wheels turning can seamlessly be performed from remote locations.
Read next: IoT Technologies Add to Construction's Safety Toolbox

Cloud-based solutions also see increased rates of use as they can be conveniently accessed through smartphones, tablets, iPads and other devices, no matter where the user is located. Even when field employees are working in remote locations without service, their data can be captured as it happens and can be shared and synced with the payroll and ERP system as soon as there is service.
Accuracy of the field data is dramatically increased with a real-time resource management platform that syncs with the payroll and ERP systems. It also eliminates manual data entry, keying errors and reallocation of job costs; and it connects your employees no matter where they are working to accurate field progress data to make them as efficient as possible and keep projects on budget. Everyone in the company that needs access to resource management data has global visibility and can see the data in real time.
Maintaining project management from a distance
Because this crisis is sure to expand the already existing worker shortage, technology solutions are giving construction companies the ability to be more efficient with the teams and resources they have. Take resource management solutions, which enable supervisors to manage projects remotely with real-time updates from employees in the field on job costs. These softwares also help supervisors to manage projects without unnecessary physical interactions and site visits, which is especially relevant if they have multiple projects in different parts of town.
Employees can embed photos and videos into forms, so managers can stay engaged, answer questions and track progress. This visual addition to the tracking grants global visibility across the organization, limiting physical interactions and reducing the chances of spreading COVID-19. Additionally, the photos and videos help the entire team to collaborate if they run into problems on the jobsite without being there.
Contractors can leverage the power of their entire team to problem-solve issues using the high quality photos and videos to clearly communicate the problem while they're working from their home remotely — or wherever they are working from with fewer people on the jobsite — to reduce the COVID-risks. The use of mobile forms with rich media like photos and videos can also reduce the need to assign a project manager to smaller jobs.
A North Carolina electrical contractor using real-time mobile forms with photos and videos found that real-time media-rich mobile forms transferred project status information more accurately, effectively and efficiently than project managers. The mobile forms helped them hit project-specific milestones better than when they assigned project managers on smaller projects.
Utilizing new coding and features to remove the need for shared devices
If businesses previously relied on multiple employees sharing a mobile device for clocking in and out, flexible real-time labor tracking apps will allow supervisors to change how they collect their time while still being able to capture photos at an appropriate social distance for a face recognition feature to work. Cloud time tracking apps are agile, and permissions can be changed quickly and easily to allow a supervisor to clock in other employees to reduce the COVID risk on shared mobile devices.
In moments, all supervisors can now clock in or out other employees by selecting one checkbox on their system permissions. As another COVID-19 precaution, supervisors clocking in their crew can now use the rear-facing camera on their phone to capture photos from a further distance and maintain proper social distancing. Previously, the front camera was used for face recognition photos on clock in or out and there wasn't enough safe distance between the supervisor and the employee. With this new workflow, the contractor still has documentation that the right employee is clocked in, and if another supervisor clocks them out, they know it's the right person with facial recognition verification.
It is the responsibility of each contractor and supervisor to run the cleanest and safest jobsite they can. By doing so, the construction industry can maintain productivity throughout this crisis and come out on the other side teaching the rest of the workforce that it is possible to be socially responsible and continue to work. Now is the time to critically assess jobsites and identify areas where technology can be utilized to support remote employees, protect the health of field employees, avoid jobsite closures and maintain project budgets and progress.
Some contractor's projects are being put on hold right now, but know they will be scrambling in a few months and bombarded. To survive and thrive beyond COVID-19, contractors must find better ways today to collect and share field data and deploy agile cloud-based resource management solutions that allow contractors to rapidly respond to any project issues with real-time data. If you don't act now, the choice may be made for you; make the most of your time now.