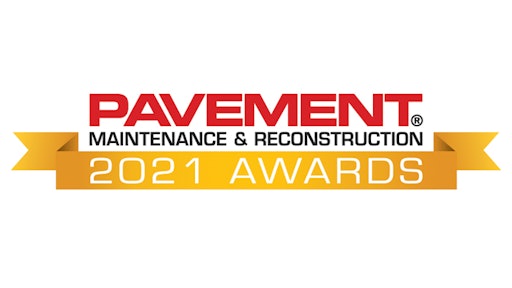 It's time – for the seventh year in a row – to begin thinking about documenting your best or most-challenging jobs so you can enter them to receive a 2021 Pavement Award. Presented by Pavement Maintenance & Reconstruction, the annual awards provide industry-wide recognition for contractors involved in all aspects of pavement maintenance.
Job-related awards recognize contractors and their crews for their 2020 efforts, and entries are open for:
Seal & Stripe: Small Job
Seal & Stripe: Large Job
Paving: Non-Parking Lot
Paving: Parking Lot
Good Neighbor Award (charitable efforts)
Best Marketing Video
Best of the Web
Cutting-Edge Sweeper
All entries must be made online at ForConstructionPros.com/PavementAwards - and entering is easy. All that's required is a brief description of the job and its challenges, including an explanation of why the job should be recognized. Then upload two high-resolution photos and you're done!
So as we get deeper into the season, keep the 2021 Pavement Awards in mind. Note particularly good work and tough challenges, take photos – and enter them in the appropriate category. And the website is already "live" so you can enter throughout the summer as jobs are completed. Actual deadline is November 1, but you don't have to wait... And you can enter in multiple categories – but note: Entries are limited to one job per company per category.
Pavement's Advisory Board selects the winning entries, and winners will be announced at the 2021 National Pavement Expo, Jan. 20-23, 2021 in Nashville, TN, and in the February 2021 issue of Pavement.