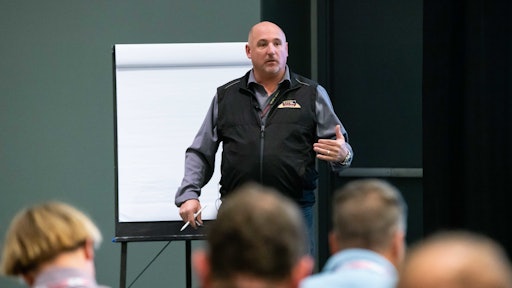 Many long-time National Pavement Expo (NPE) attendees noticed a difference earlier this year when the show convened for its 35th anniversary gathering in Nashville. The difference was by design, and Thomas Eosso, advisory board member for the show, reveals that it took a while for attendees to warm up to the changes.
"At first there was negativity," admits Eosso, a frequent NPE presenter and owner of Eosso Brothers Paving, Farmingdale, N.J. "People don't like change. But once we got a day or two into the show and the classes, people really started liking it. When you make change, sometimes it doesn't work, but the show earlier this year went really well."
Some of the initial push back stemmed from the lack of familiar faces. "There were speakers who had been doing the show for more than 20 years who did not attend the 2020 show because we made a switch in trying to re-energize the speakers and get industry professionals doing the classes," Eosso says. 
Taking the lead from Russ Turner, NPE's associate show director, organizers issued their first-ever call for presentations to get new blood to the 2020 show. Meanwhile, the educational advisory board met in Chicago for intense discussions about what attendees would really want to hear.
"It's a responsibility that all board members take seriously, because they know the time, effort, and expense it takes to attend. "The people in the audience have spent a lot of money to be at the show, and they want to come home with good information," Eosso says.
Highly focused, relevant, and specific are all traits for the "new breed" of speaker. Attendees don't need to hear generalities, and now more than ever NPE is attracting the "winners" in the industry who are willing to share detailed examples. 
"Over the past three years, particularly with social media, there are some people excelling at a high level," Eosso says. "They know about what we can now do with technology, such as iPads. Everything is at your fingertips and it is speeding things up. We're getting the top guys in front of our audience talking about how they are making things happen in their area. We want the best of the best."  
Saying "no" to speaker proposals is a difficult necessity, particularly when it comes to those who are not tech savvy. Others may be affiliated with the industry, but aren't close enough to relate to the specialized NPE audience. Eosso puts it this way: "We're trying to avoid speakers who don't 'get it.' We are a seasonal industry, for example, and I've seen speakers who don't understand that many of us start in April and stop in November, and we must make every day count.
"We want winners in the industry up in front—people who started with nothing and built their names and reputations—those are the people we want to see," Eosso says. "People on the board are industry people and they know that."
Like the rest of the country, Eosso has expanded his normal job concerns to include the COVID-19 situation. And at the Jan. 20-23, 2021 show in Nashville, he too wonders; what will it look like? Eosso can predict the mindset of attendees, because he too has faced anything but business as usual.