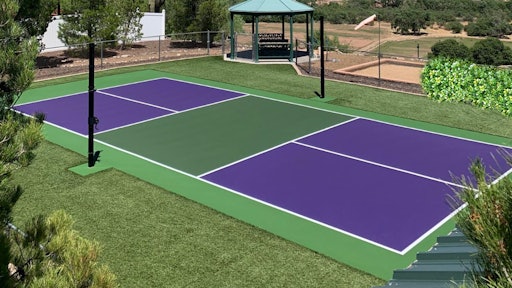 The United States Pickleball Association (USAPA) has announced a partnership with SportMaster to be the USPA's official court surface of USA Pickleball.
SportMaster has headquarters in Sandusky, OH, where it produces 100% acrylic sport surfaces and repair products for both hard and cushioned pickleball courts in a variety of colors. SportMaster also produces a variety of other athletic and recreational surfaces. 
"We couldn't be more pleased to partner with the leader in sport surfaces as we offer this uniquely branded pickleball court surface with SportMaster," said George Bauernfeind, managing director of communications and marketing for USA Pickleball. "Our organization has been focusing on creating strong partnerships, such as this one with SportMaster, to continually offer top-of-the-line products for the highest quality game play."
SportMaster and USAPA are working together to brand a pickleball-specific product to make available through its SealMaster franchisees, contractors and individual customers looking to build and resurface pickleball courts. SealMaster, a SportMaster brand-affiliate, distributes a full-line of pavement maintenance and SportMaster sport surfacing products and equipment, including repair and resurfacing materials. 
"We are very excited to work alongside the USA Pickleball Association and build some enthusiasm around court surfaces," said Jeff Gearheart, director of SportMaster sport surfaces.  "We hope to create a buzz and expose pickleball players to fun color combinations and softer, more comfortable playing surfaces.  Our goal is to raise the level of the playing experience and do our part to help grow and promote the sport of pickleball".