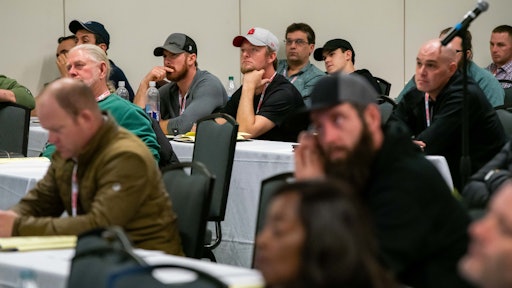 For those pondering a trip to the National Pavement Expo (NPE), scheduled for Jan. 20-23, 2021 at the Music City Center in Nashville, TN, the full experience involves more than a trip to the expansive show floor. Thanks to a full slate of educational sessions, attendees can find practical new ideas that they can bring home.
Paired with a helping of inspiration, the ideas can prove just as valuable as a pricey new piece of equipment. "If you leave the show with a couple new nuggets of knowledge," says Brad Humphrey, vice president of Human Resources and Employee Development, Pavecon, Grand Prairie, TX, "it's been a successful show."
As an industry veteran and long-time NPE speaker, Humphrey has seen the benefits of NPE attendance first-hand. Considered one of the must-see speakers at the annual show, Humphrey will again share his wisdom with two sessions on Saturday, Jan. 23, NPE's final day.
Humphrey's first session of the day will be How to Plan and Properly Schedule Jobs. Call it a primer for the basics, with tools and techniques to avoid all-too-common mistakes. "A lot of contractors are really horrible at planning," Humphrey says. "They estimate the job, win the job, but oftentimes will not spend the extra half-hour-to-one-hour to really plan the job out."
A typical problem is not bringing the proper tools and equipment, necessitating yet another run to the contractor's supply store or Home Depot. These mistakes can be avoided with focused preparation.
"The sub-trade specialists—at least the good ones—are starting to wake up to the fact that it really is cheaper if you do things right the first time," Humphrey says. "This is a mini quality session on planning. Most guys and gals in the class will not have seen any of this stuff, and it will blow them away."
Humphrey's second session, Creating and Sustaining Your Competitive Advantage, will tackle the inherent problems of a crowded marketplace. "The economy was pumping nicely the last few years, and that's good news," Humphrey says. "The bad news was that there were a lot more players. A lot of home town contractors suddenly found more competitors offering services at a lower price. In this session, I will try to help them leverage their unique selling proposition. That means getting an idea of what they do the best. How do you separate yourself from the pack?"
Mike Shereck, leadership consultant and executive coach, will be heading up three educational sessions at NPE. As the head of the Mike Shereck Group, Naperville, IL, he spoke last year at NPE to positive reviews. On day one (Wednesday), Shereck will kick off with a presentation entitled, There is a Reason They Call it the Top Line, essentially about selling in this "new world."
"It's about a focused selling approach, understanding the customer and yourself, and how to make the most out of the chaos that's occurring in the market," Shereck says. "The new world is all of the things that have occurred since 2008, including the COVID situation."
Shereck uses his real-world experience to impart practical strategies. For example, he worked at a company where the average sales person was selling about 1.2 million. "In 2008, one of the worst years in the pavement industry, I sold $5.8 million, so I have background in dealing with that kind of situation," he says. "It's about creating partnerships and making things happen with customers."
COVID, changes in demographics, and changes in the way we view people are all factors in this new world. "It wasn't long ago that everyone came from the same demographic in this industry," says the 65-year-old Shereck, who is currently going to school to get his PhD in Organizational Development. "It's getting beyond our own biases and limitations."
On day two, Shereck will shift gears to The Four Core Distinctions of Leadership, a presentation he made last year to strong effect. "We'll be looking at leadership as opposed to management," he says. "The first core distinction is determining, 'What is your purpose? Why does your business matter?' We look at integrity, authenticity, and messaging. This year, we're really going to tailor it to paving."
Finally, on day three, Shereck will conclude with The Times They Are a Changing - Managing in Turbulent Times. He explains: "We'll look at how leadership is needed in these times of chaos, with self-awareness and understanding You can see all the nonsense that goes on with people pointing and blaming. It's all about who you are and what you stand for."
With Shereck and Humphrey focusing on more philosophical matters, Jim Panzenhagen, owner of JMP Excelsior Services LLC, Oakland, NJ, will zero in on the how-to portion. Specifically, he will teach two sessions; the first on basic parking lot layout and basic striping, and the second dealing with use of the auto-layout machine.
"Someone who has never used a machine, or has never laid out a parking lot will benefit the most from this [layout and basic striping] class," he says. "Even veteran stripers will get a new way of looking at laying out a parking lot. The class will cover everything from arriving at the job site, laying out the parking lot, painting the parking lot, and cleanup at the end of the job."
These are just a few of the featured sessions, and show organizers are planning for strong content up and down the schedule. "I believe the in-person trade show is a must," Humphrey says. "There is something about being among your peers. At NPE, there is a brotherhood and sisterhood with teamwork and relationships. It's an opportunity to feel the energy of people all over the country. You don't get a lot of losers going to these shows. They are growing their businesses. If you can attend in person, and participate face to face, that's the best."
 For details and to register for National Pavement Expo, Jan. 20-23 in Nashville, visit www.nationalpavementexpo.com.